Banana Nutella Muffins
I rarely make muffins these days. When my brother's wife gave birth to my baby niece last week, I asked on Twitter for some suggestions of what kinds of food to take over to their house. A couple people mentioned taking some muffins and other snacky foods over there since they probably already have quite a few meals in the house.
I jumped on the idea of baking up some muffins. And since I always have frozen over-ripened bananas in the freezer, I grabbed a couple to let them defrost. At the same time, my little sister Linz was on her way to Boston to spend her spring break out here. She loves to bake and has some pretty mad skills in the kitchen. I love it when she comes to visit because we just spend hours in the kitchen cooking and baking.
She mentioned two things when we were at the store grabbing ingredients. One, she had tried risotto at a restaurant and wanted to try her hand at making some. And two she had never had nutella. We instantly added nutella to the cart and these muffins were born. FYI, she made her first risotto the other night (with shrimp, goat cheese, and asparagus) and it was amazing! These muffins have great flavor as the banana and nutella work together in perfect harmony. No one ingredient overpowers the other.
One Year Ago: French Toast Bread Pudding and a Giveaway and Coconut Layer Cake Filled with Lemon Curd
Two Years Ago: Homemade "Instant" Pancake Mix and Make Ahead Breakfast Burritos and White Cupcakes with Vanilla Buttercream
Three Years Ago: Sugar Cookie Bars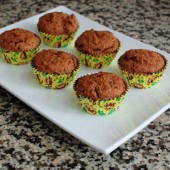 Banana Nutella Muffins
Banana and Nutella make a great pair!
Ingredients:
2 cups flour
2 tsp baking powder
1 tsp cinnamon
1/2 cup sugar
1/2 cup Nutella
1 banana mashed (about 1/2 cup)
1/4 cup butter, softened
1/4 cup buttermilk
1 egg
1 tsp vanilla
Directions:
Preheat oven to 375 F.
In a large mixing bowl, combine flour, baking powder, cinnamon and sugar.
In a separate bowl, combine Nutella, banana, butter, buttermilk, egg and vanilla.
Stir wet ingredients into dry just until combined.
Spoon into greased muffin tins. Bake for 17-20 minutes or until a wooden pick inserted comes out clean.
Remove from pan to wire rack to cool.
13 Responses to "Chocolate M&M Cookies"
Leave a Comment