Coconut Layer Cake Filled with Lemon Curd
I've been loving layer cakes recently. In the past I always felt like I needed a special occasion to make a layer cake. But I got some 6″ cake pans for Christmas this year. When you make a 6″ cake, it serves 8, which is perfect for a dinner party.
I also have the opinion that when making a layer cake, you might as well go all out and make it into 4 layers. I mean, seriously, who wants just two layers of cake when you can have four! What that really means is that you'll have more layers of the good stuff – the filling!
We had friends M&M over for dinner and I served this cake for dessert. We all enjoyed the lightness of the cake. It was the perfect ending to the meal and would be great for any of the upcoming Spring holidays.
I used my go-to white cake recipe except used coconut extract in the cake. Then I filled the cake with some lemon curd and added toasted coconut to the outside of the cake. I love adding some garnish to the sides of a cake. Then it doesn't matter how good or bad you are at frosting the sides of a cake.
In case you were wondering, a 6″ cake uses a half batch necessary for a 9″ cake. I always use my cupcake scoop to portion out batter. Nine inch cakes are equivalent to 12 cupcakes per layer and six inch cakes are equivalent to 6 cupcakes per layer. Note the recipe below is for a full sized 9″ two-layer cake. Cut in half for a 6″ double-layer cake.
I filled the cake with this lemon curd and used this vanilla buttercream frosting recipe.
One Year Ago: White Cupcakes and Spring M&M Pretzel Treats
Two Years Ago: Sugar Cookie Bars, Goat Cheese and Sundried Tomato Appetizers, and Fauxstess Cupcakes
Three Years Ago: Summer Squash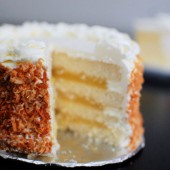 Coconut Cake
Ingredients:
2 1/4 cups cake flour
1 cup + 2 tablespoons whole milk, at room temperature
6 large egg whites (3/4 cup), at room temperature
2 tsp coconut extract
1 tsp vanilla extract
1 1/2 cups + 2 tablespoons granulated sugar
4 tsp baking powder
1 tsp table salt
12 Tbsp unsalted butter, softened but still cool
Directions:
Set oven rack in middle position. Heat oven to 350 degrees. Prepare two 9" cake pans with parchment and butter.
Pour milk, egg whites, and extracts into 2-cup glass measure, and mix with fork until blended.
Mix cake flour, sugar, baking powder, and salt in bowl of electric mixer at slow speed. Add butter; continue beating at slow speed until mixture resembles moist crumbs, with no powdery streaks remaining.
Add all but 1/2 cup of milk mixture to crumbs and beat at medium speed (or high speed if using handheld mixer) for 1½ minutes. Add remaining ½ cup of milk mixture and beat 30 seconds more. Stop mixer and scrape sides of bowl. Return mixer to medium (or high) speed and beat 20 seconds longer.
Divide batter evenly into prepared pans. Bake until thin skewer or toothpick inserted in the center comes out clean, 25-30 minutes.
Cool completely prior to frosting.
8 Responses to "Pomegranate Rosemary Cheese Ball"
Leave a Comment