White Cupcakes with Vanilla Buttercream
I've been searching for a go-to white cupcake recipe for a while now. I feel like any baker should have go-to recipes for a few classics. White cake, chocolate cake, brownies, pie crust, chocolate chip cookies, and sugar cookies are the ones I would like to have a go-to recipe for.
To have a go-to recipe is a huge deal. It means that no matter what other recipes you see of that type, you're not even interested in trying them because you know that your recipe is awesome. It's the recipe that you learn by heart and don't even need to read because you've made it so many times. It's the recipe that everyone loves and asks for when they taste it. It's a recipe that people request over and over again even though they know you love to try new recipes and your to-bake list is a mile long.
The go-to recipe can make your life easy. But getting to a go-to recipe is not easy. Trying multiple recipes, making tweaks, having restless nights contemplating ingredients are all part of the process. At least that is what the process has been like for me. I've tried multiple white cake recipes and I'm still not completely sold. This one is great. I love the texture of this cake, but I really want a cupcake that will rise up a bit. I like domes on my cupcakes. Maybe I'm asking too much to have a delicate tender cake that also produces a dome on top. This will be my go-to-for-now white cupcake recipe until I can find one that has everything I'm looking for. But don't let me give the wrong impression. These cupcakes are AMAZING! Everyone really enjoyed them.
I got this recipe from Bridget over at The Way the Cookie Crumbles. Have you seen her blog? It's awesome. I love her photographs and her comparison posts! She inspired me to do a sugar cookie comparison post a couple years ago and I took her advice on the outcome of the red velvet cupcake comparison post with great results. So I've been wanting to try her white cake recipe. She combined the favorite parts of a couple recipes to make her own. How cool is that?
Note – this recipe calls for 6 egg whites. Bridget recommended actually separating out the eggs as opposed to using liquid egg whites. I made these the same day I made the lemon bars since those called for 7 egg yolks so it worked out perfectly for me. Another great idea is to make some creme brulee with the yolks!
One Year Ago: Sugar Cookie Bars (a go-to bar recipe for sure!)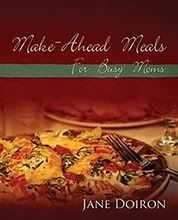 Don't forget about my giveaway. Be sure to enter by Midnight this Friday for your chance to win a Make-Ahead Meals Cookbook.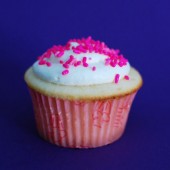 White Cupcakes
These white cupcakes are perfectly tender and moist.
Ingredients:
1 cup + 2 Tbsp whole milk, at room temperature
6 large egg whites (3/4 cup), at room temperature
2 tsp almond extract
1 tsp vanilla
2 1/4 cups cake flour
1 1/2 cups + 2 Tbsp sugar
4 tsp baking powder
1 tsp table salt
12 Tbsp unsalted butter, softened but still cool
1 batch buttercream
Directions:
Set oven rack in middle position. Heat oven to 350 degrees.
Pour milk, egg whites, and extracts into 2-cup glass measure, and mix with fork until blended.
Mix cake flour, sugar, baking powder, and salt in bowl of electric mixer at slow speed. Add butter; continue beating at slow speed until mixture resembles moist crumbs, with no powdery streaks remaining.
Add all but 1/2 cup of milk mixture to crumbs and beat at medium speed (or high speed if using handheld mixer) for 1 1/2 minutes. Add remaining 1/2 cup of milk mixture and beat 30 seconds more. Stop mixer and scrape sides of bowl. Return mixer to medium (or high) speed and beat 20 seconds longer.
Divide batter evenly into prepared pans. Bake until thin skewer or toothpick inserted in the center comes out clean, 15-17 minutes. (If baking layer cakes, this recipe will make two 9-inch layers. Bake for 23-25 minutes).
Cool completely prior to frosting.
11 Responses to "Chocolate Oatmeal Almost Candy Bars"
Leave a Comment