Coconut Almond Cake with Blackberry Lime Curd
It is embarassing how long I've had this post started as a draft. To give you a hint, it was before I even started blogging for Yankee Magazine. You see, my good friend Aimee had started working at Yankee as an assistant editor. She sent me one of their latest recipe book-a-zines to take a look at. As usual, I was instantly drawn in by the layer cake in the issue.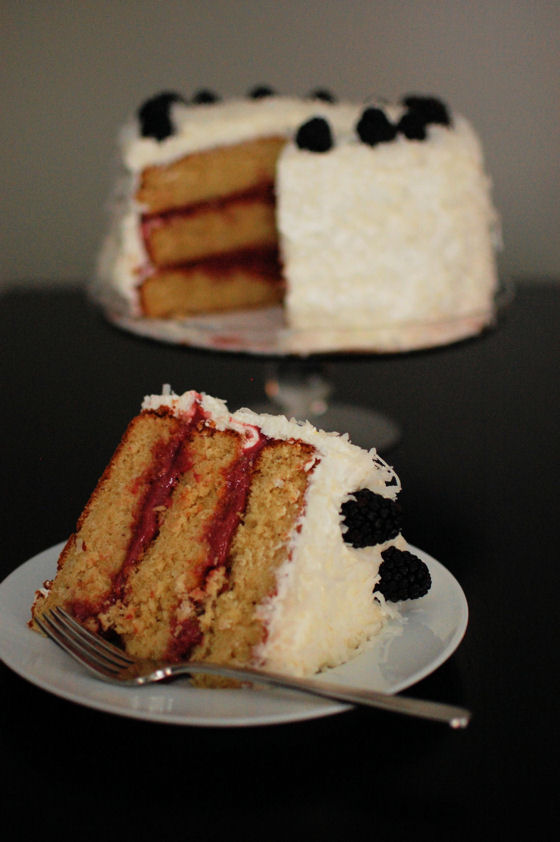 This specific cake was served at cookbook author Amy Traverso's wedding. In my mind a wedding cake is such a special treat. If this was served at Amy's wedding, it had to be amazing.
Now I'm not going to lie, this cake was somewhat finicky to deal with. More so than the average layer cake. I blame myself for the majority of the issues I had with the cake though. For starters, I didn't give myself enough time. When I make layer cakes, I try to bake the layers in advance so they're nice and cool when I need to assemble the cake. Somehow, time got away from me that weekend, and I was rushing.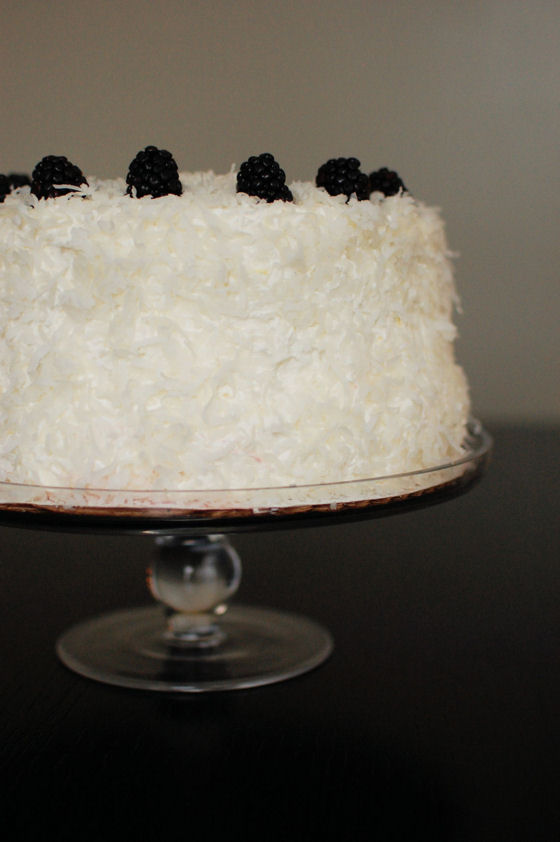 Second, the blackberry lime curd filling was a bit runny. Again, had I been planning better, I would have made it a day or two in advance so it would have had plenty of time to completely cool and set up. But I didn't. Shame on me.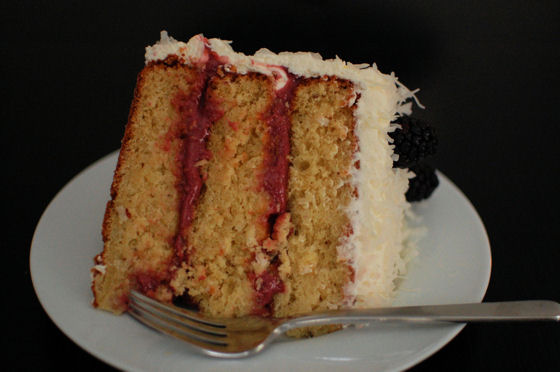 The other mistake I made was not using a frosting dam to hold the filling in. I usually pipe a thick line of frosting around the edge of the cake layer (like this) prior to spreading the filling. This will help prevent the filling from spreading out of the layers as you stack them. I was seriously off my game that day.
Because of these mistakes, as I started frosting the cake, even after applying a crumb coat, some of the dark pink filling started coming through the frosting. I proceeded to just keep slapping on more frosting, which I then covered with shredded coconut to hide any blemishes.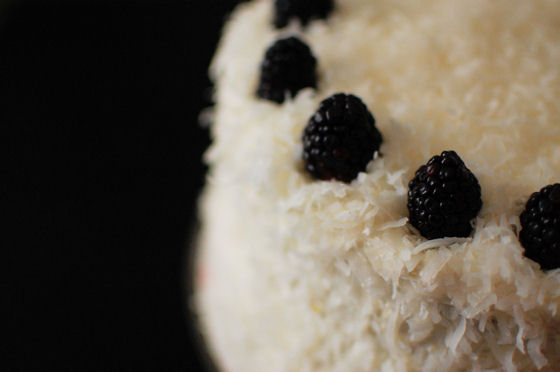 Now I have to admit, I'm being hard on myself. If you ask anyone who ate this cake, they never would have guessed that I had so many issues with it. The cake is very moist with a great texture from the ground up almonds and shredded coconut. And that filling? Out of control. The frosting and coconut on the outside of the cake tie everything together. It's no wonder Amy Traverso served this cake at her wedding. If I were getting married again, I might do the same.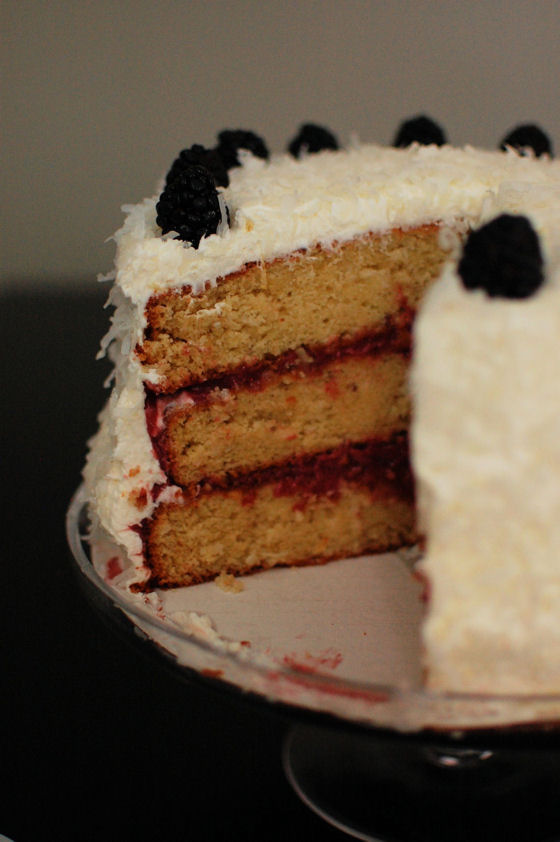 The next time you have a special occasion, whether it's a wedding, Mother's Day, Easter, or any other get together, make this cake. Your friends and family will thank you. But be sure to learn from my mistakes. Plan ahead and keep your head on straight. Following simple cake baking best practices will result in a less frustrating experience then I had with this cake…
One Year Ago: Pepperoni Pizza Puffs and Dulce De Leche Brownies
Two Years Ago: Roasted Broccoli and French Macarons – Chocolate with Espresso Buttercream
Three Years Ago: Rocky Ledge Bars and White Chocolate and Macadamia Nut Bars
Four Years Ago: Crockpot Pulled Pork
Five Years Ago: Lemon Curd Cookies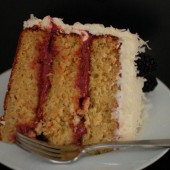 Coconut Almond Cake with Blackberry Lime Curd
Ingredients:
For the Cake
1 1/2 cups slivered almonds
1 1/2 cups (3 sticks) unsalted butter, at room temperature, plus extra for pans
3 cups flour, plus extra for pans
2 tsp baking soda
1 1/2 tsp salt
3 cups sugar
8 eggs, separated
2 tsp vanilla
1 1/2 cups buttermilk
1 1/2 cups sweetened coconut flakes
For the Frosting
1 cup (2 sticks) unsalted butter, at room temperature
1 cup vegetable shortening
5 cups confectioners' sugar, sifted to remove lumps
1/2 cup milk or light cream
2 tsp vanilla
Grated zest of 1 lemon
For Cake Assembly
Blackberry Lime Curd
2 cups shredded sweetened coconut flakes
Fresh blackberries
Directions:
For the Cake
In a food processor, chop almonds to the texture of coarse meal. Set aside.
Lightly grease and flour three 9-inch cake pans; set aside. Adjust oven rack to the center and preheat to 350°.
Sift together flour, baking soda, and salt; set aside.
With an electric mixer on medium speed, cream butter and sugar, scraping bowl and beaters occasionally, until there are no lumps and mixture is light and fluffy, 4-6 minutes.
Add egg yolks, two at a time, mixing well after each addition; blend in vanilla extract.
Add flour mixture 1 cup at a time, alternating with buttermilk.
Scrape the bowl; then blend in coconut and almonds.
In a clean bowl, whip egg whites to soft peaks; fold egg whites into batter in three stages.
Divide batter evenly into prepared pans. Bake 35-40 minutes, or until a toothpick inserted into the center comes out clean.
Remove cakes from oven and cool in pans 5 minutes. Flip cakes out onto a baking sheet lined with waxed paper and
cool completely. If making ahead, wrap each cake individually and refrigerate.
For the Frosting
In a bowl, cream together butter and shortening until light and fluffy. Scrape bowl and beaters.
Add confectioners' sugar in three stages; blend well and scrape bowl between additions.
Add milk or cream, vanilla extract, and lemon zest; blend well.
For Cake Assembly
To assemble cake, choose your prettiest layer for the top. Spread the tops of the other two layers with equal amounts of Blackberry Lime Curd; then stack the cake.
Frost generously all over with frosting; then sprinkle all over with coconut flakes and top with blackberries.
8 Responses to "Peppermint Chocolate Chip Cookies"
Leave a Comment