White Chocolate Macadamia Nut Bars
I've got a great bar recipe that is sure to please anyone! I think everyone enjoys the white chocolate and macadamia nut combination. It's almost as great as peanut butter and chocolate.
I made these to send to Jesse for Round 17 of Operation Baking Gals. One of his favorite cookies is a white chocolate and macadamia nut cookies. I wanted to take that flavor combo and make it in a bar format since I was short on time.
I hit the internet and found this recipe. It's great. I like to sprinkle the mixins on top of the bars because it adds some texture and really makes the flavor of the mixins pop. I think I'll be doing it from now on for any brownies or bars that have mixins.
Check out my entire week of bars and brownies here.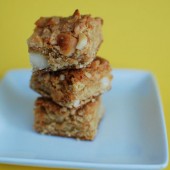 White Chocolate Macadamia Nut Bars
Ingredients:
3/4 cup butter
1 1/2 cups brown sugar
1 Tbsp vanilla
2 eggs
2 cups flour
1 1/2 tsp baking powder
1 cup coarsely chopped macadamia nuts, divided
1 cup white chocolate chips, divided
1 tsp shortening
Directions:
Heat oven to 375. Grease rectangular pan, 13x9x2 inches. Heat butter and brown sugar in 3-quart saucepan over low heat about 5 minutes, stirring occasionally, until butter is melted; remove from heat.
Beat vanilla and eggs into sugar mixture with electric mixer on medium speed. Beat in flour and baking powder on low speed. Stir in half of the nuts and white chocolate chips. Pour into pan. Sprinkle with remaining nuts and white chocolate chips.
Bake 25 to 30 minutes or until top is golden brown and center is set. Cool about 30 minutes. Cool before cutting.
One Response to "Boston's Chocolate Brunch from In and Around Town"
Leave a Comment