Mini Ham and Cheese Sandwiches
These mini ham and cheese sandwiches don't appear to be all that interesting, but believe me, don't let the photos fool you. This isn't just ham and cheese thrown between halves of a roll. The sauce that these sandwiches is marinated in takes them over the top. The first time I had them was at a party at my Dad's house. Obviously, we wanted the recipe immediately. These would be amazing to serve at a New Years Eve gathering.
The recipe is from my step-mom's sister, K. She explained that the key to these little guys is the overnight marinating. This allows all the flavors of the marinade to soak into the bread and surprisingly doesn't leave the rolls soggy at all. My sister has made these and didn't have time for an overnight marinade, and they just weren't the same, so don't skip that step!
Hubby has made these two years in a row for our friend's holiday potluck. They're always a huge success. They're great for potlucks because you can do all the work the night before and then just pop them in the oven when you get to the potluck location and 10 minutes later people will be asking you for the recipe. (Note: The pictures are takedn with rolls that are bigger than the ones the recipe calls for. We couldn't find the mini-Hawaiian rolls at our store, so we used potato rolls. They tasted delicious, but weren't as cute and small as the first time we made them)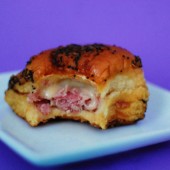 Mini Ham and Cheese Sandwiches
These ham and cheese sliders always disappear first at a party
Ingredients:
1 cup (2 sticks) butter
1 1/2 Tbsp poppy seeds
1 1/2 Tbsp grated dried onions
1 1/2 Tbsp Worcestershire sauce
2 Tbsp honey mustard
2 (12 ounce) packages Hawaiian rolls - If you can't find these, we've used potato rolls as well
1 pound cooked ham slices
12 ounces sliced swiss cheese
Directions:
In saucepan, mix butter, poppy seeds, onion, Worcestershire sauce & mustard, stir until blended and melted. Pour 1/2 of mixture into bottom of baking dish.
Assemble sandwiches with ham and cheese slices. Arrange rolls in single layer in baking dish, spreading them around to soak up sauce in pan. Pour rest of sauce over tops of sandwiches, cover dish and refrigerate up to 24 hours for sauce to soak in.
Preheat oven in 350 degrees, bake rolls for 10-12 minutes until rolls are lightly browned and cheese is melted.
Recipe from my step-mom's sister
3 Responses to "Goat Cheese Stuffed Chicken"
Leave a Comment