Chipotle Honey Lime Pork Tenderloin
I've been venturing out and cooking more meat recently. I'm not sure where the inspiration has come from, but I have been enjoying a lot of these new meat recipes. Maybe I'm just getting bored with our usual chicken and salmon dishes…
As you know, I'm a big wimp, so I thought the chipotles gave a bit too much heat. I liked that the sauce gave some additional heat, so I could just choose to leave it off of my serving, while Hubby piled it on his. Luckily, the honey and fresh lime juice provide a nice counter to the chipotles.
I marinaded my pork overnight so that after work, I could just cook it up and we had dinner ready in no time flat. I love meals that are healthy, tasty, and quick!
One Year Ago: Homemade BBQ Sauce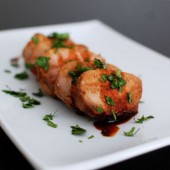 Chipotle Honey Lime Pork Tenderloin
Ingredients:
2 lbs pork tenderloin
1 cup fresh lime juice (~8 limes)
zest from 2 limes
1/2 cup honey
1 Tbsp kosher salt
1 tsp garlic powder
2 chipotle chiles in adobo sauce, chopped
1 tbsp adobo sauce
peanut oil, or other high temperature oil
cilantro
Directions:
Trim tenderloins of fat and silver skin as much as possible. Place in a large ziplock bag or other container to marinate.
In a bowl combine lime juice, zest, honey, salt, and garlic powder.
Stir to combine, then pour half over tenderloins, reserving half for sauce.
To tenderloins add chiles and adobo sauce. Seal and marinade in fridge.
About 30 minutes before you are ready to cook, remove pork from fridge and allow to come to room temperature.
Preheat oven to 425°F. In a large, heavy oven-proof skillet (like a cast iron skillet), heat enough oil to coat over medium high temperature.
Remove tenderloins from marinade and sear in hot skillet on all sides.
Place the skillet in the oven and roast tenderloins for about 15 min.
Remove pork from the oven, cover pork in skillet with foil. Let rest on the counter for 5-10 minutes.
Remove pork to a cutting board, pour reserved lime juice mixture into skillet with meat juices and heat on high.
Allow sauce to reduce and thicken slightly, then pour over sliced pork tenderloins. If you don't have enough sauce or it thickens too much you can add a little water and continue simmering it until it is the quantity and thickness you want.
Garnish with freshly chopped cilantro.
5 Responses to "Salmon with Yellow Pepper Cilantro Pesto"
Leave a Comment