Vegan Sugar Free Chocolate Rum Cookies
I love cookie swaps. They're so fun. You show up with cookies of one kind and leave with cookies of a bunch of different kinds. I actually did one cookie swap with friends in December, signed up for one that Kathy planned, but ended up not being able to go, planned on the blogger swap last weekend that I also couldn't attend, AND, signed up to do an online swap. Yea, like I said, I like cookie swaps.
I enjoy doing online swaps because you're sending and receiving a bunch of one kind of cookie! I have participated in steph chow's jam exchange in the past, so when she said she was going to do a cookie exchange, I instantly signed up.
My partner in cookie-ing is Sarah. She's vegan so I set out to find a vegan cookie recipe. I actually had a hard time finding something that looked good to me that was vegan that also wouldn't require me to purchase some ingredients that I would never use again… But alas, I found this cookie that also happens to be sugar free. And it has rum in it! Even better. The cookies had a good chocolate flavor and actually reminded me of truffles or fudge with some rum thrown into the mix.
One Year Ago: Chocolate Covered Strawberries
Two Years Ago: Apple Spice Bars
Three Years Ago: Lemon Meringue Pie Cupcakes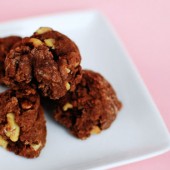 Vegan Sugar Free Chocolate Rum Cookies
Ingredients:
1/4 cup vegetable oil
1/4 cup soy milk
1/2 cup maple syrup
3 Tbsp rum
2 oz unsweetened chocolate, melted
2 1/4 cups flour
1/2 tsp baking soda
1/2 cup chopped walnuts (optional)
Directions:
Pre-heat oven to 350 degrees.
Whisk together the oil, soy milk and maple syrup until well mixed. Add rum and melted chocolate, then remaining dry ingredients, adding the nuts last.
Drop by spoonfuls onto a baking sheet and bake for 7-9 minutes.
Leave a Comment