Crockpot Hawaiian Pulled Pork
We all agree that pulled pork is awesome, right? I mean, it cooks on low in the crockpot for hours and is just falling apart and so tender. There's really nothing better. For quite some time now, I've been making this Crockpot Pulled Pork. It gets rave reviews. It's delicious and everything you could ask for in a saucy spicy pulled pork.
But sometimes you don't want saucy. And you don't want spicy. You just want porky. (Is that a word? I'm not sure, but I'm going with it). This pulled pork is AMAZING. I literally woke up the morning after I put it in the crockpot – did I mention I cooked it for 20 hours? – anyways, I woke up the next morning and was confused. I saw Hubby still snoring away in bed. But I smelled bacon. Who was cooking bacon in my house that Saturday morning? I stumbled in the kitchen, clearly confused. Then upon seeing my crockpot, remembered that we had pork cooking low and slow. For 20 hours. Yea, just let that one process for a minute.
When Hubby did wake from his slumber, he hit up a local bakery for some rolls and we enjoyed Crockpot Hawaiian Pulled Pork sandwiches. I topped them with provolone and melted the cheese under the broiler for a minute. It's seriously amazing what you can make with three simple ingredients and 20 hours in the crockpot.
One Year Ago: Crockpot Pulled Chicken
Two Years Ago: Sesame Crisps
Three Years Ago: Crockpot Beef and Peppers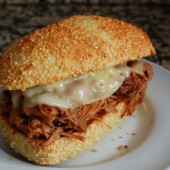 Crockpot Hawaiian Pork Roast
3 ingredients + 20 hours = Amazing pulled pork
Yield: serves 12
Prep Time: 10 minutes
Cook Time: 20 hours
Total Time: 20 hours
Ingredients:
6 pounds pork butt roast
1 1/2 Tbsp sea salt
1 Tbsp liquid smoke flavoring
Directions:
Pierce pork all over with a carving fork. Rub salt then liquid smoke over meat. Place roast in a slow cooker.
Cover, and cook on Low for 16 to 20 hours, turning once during cooking time.
Remove meat from slow cooker, and shred, adding drippings as needed to moisten.
4 Responses to "Meal Idea for New Parents (or anyone else you want to take food to)"
Leave a Comment