Sweet and Sour Meatballs
A sweet and sour sauce coats tender meatballs that can be made ahead of time and frozen until you're ready to serve them.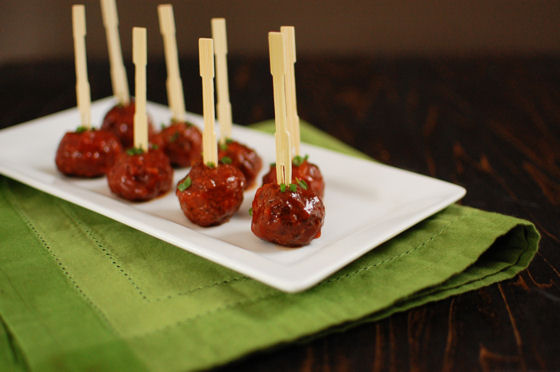 Hubby and I have really been enjoying our new house here in Cincinnati. Specifically the fact that it's great for entertaining and can accommodate more than 4 guests for a party. Back in Boston, it took us a few years to figure out how to entertain in our tiny condo. Once we figured it all out, we were able to host a few get togethers, but we always had to keep a close eye on the guest list and make sure it wasn't growing past our max capacity in the condo.
We didn't realize how much we missed entertaining until last summer when we threw our first big party at the house. It was to celebrate my birthday in June. Hubby manned the grill, we had a great spread of food (including Funfetti Oreo Cupcakes), and everyone had a good time. Since then, we try to have people over on a regular basis. Whether it's a small group hanging out by the firepit, a dinner party for 6, or a legit party.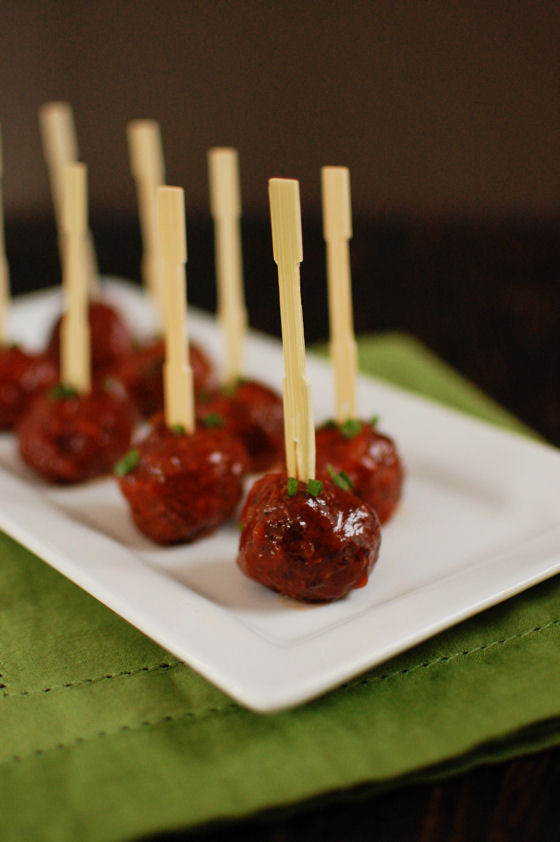 So when the holidays rolled around and we realized we didn't have New Years Eve plans, we decided to throw a party. If you follow me on Instagram, you already know this. The party was a huge success. We had about 20-25 people over and the last guests left at 4:30am. It was a blast.
AND, I got to wear a little bitty hat.
I love little hats. Not sure why, but I guess why do I need a reason? They're cute and festive and basically awesome.
These meatballs are one of the appetizers we made for our NYE party. They were great because we had made them a couple weeks earlier and froze them until the party. We defrosted everything in the fridge overnight, then threw everything in a the crockpot a few hours before the party. Since we both had to work that day, it was great to have an appetizer which required very little effort the day of the party.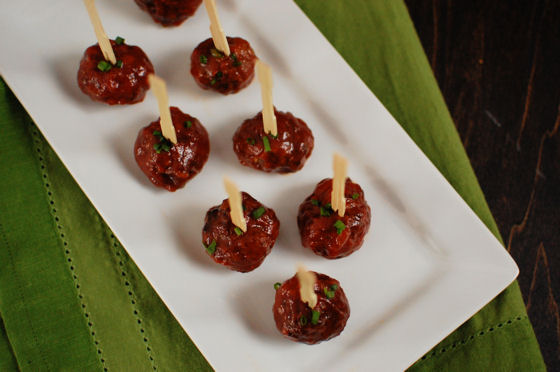 It's no surprise these meatballs were great. They're from America's Test Kitchen. Those guys really know what they're doing. The sauce is sweet and sour and exactly what you'd expect in a party meatball. So if you're looking for a snack to take to a Superbowl party next weekend, give these a shot. You can make them this weekend and then just reheat them the day of the game.
Two Years Ago: Mini Roast Beef, Goat Cheese, and Radish Sandwiches and Amped Up Rice Krispies Treats
Three Years Ago: Oatmeal Chocolate Cinnamon Cookies and Mini Whole Wheat Bagels
Four Years Ago: Butternut Squash and Spinach Casserole
Six Years Ago: White Chocolate Mocha Cupcakes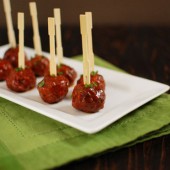 Sweet and Sour Meatballs
A sweet and sour sauce coats tender meatballs that can be made ahead of time and frozen until you're ready to serve them.
Ingredients:
For the Meatballs
4 slices white sandwich bread, torn into pieces
1/2 cup milk
2 egg yolks
1/2 lb ground pork
1/2 cup finely chopped fresh parsley
4 garlic cloves, minced
2 tsp pepper
1 tsp salt
2 1/2 lb 85% lean ground beef
For the Sauce
1 Tbsp vegetable oil
1 onion, minced (~1 cup)
1 (28 oz) can tomato sauce
2 1/2 cup apricot preserves
1/4 cup dark brown sugar
3 Tbsp Worcestershire sauce
2 Tbsp Dijon mustard
1/4 tsp red pepper flakes
Directions:
For the Meatballs
Preheat oven to 450 degF.
Using a fork, mash the bread, milk, and egg yolks in a large bowl until smooth. Add the pork, parsley, garlic, pepper, and salt. Mix until incorporated. Add beef and gently knead until combined.
For the mixture into 1 1/4 inch meatballs. Bake meatballs on 2 rimmed cookie sheets until cooked through, 12-15 minutes. Switch and rotate the sheets halfway through.
Let the meatballs cool to room temperature, then refrigerate until firm. If freezing, throw meatballs into a large Ziplock bag and freeze for up to 1 month.
For the Sauce
Heat the oil in a dutch oven over med-high heat. Add the onion and cook until softened, about 5 minutes. Whisk in the tomato sauce, preserves, sugar, Worcestershire sauce, mustard, and red pepper flakes. Bring to boil.
Reduce heat to med-low and simmer until the sauce is thickened, about 15 minutes. Let cool to room temperature. If freezing, transfer to large airtight container and freeze for up to one month.
If meatballs and sauce are frozen, defrost meatballs and sauce in the fridge overnight before you want to serve them.
Add sauce and meatballs to crockpot and set on low for 2+ hours until completely heated. Alternatively, heat in a large pan on the stove top.
2 Responses to "Pork Chops with Blue Cheese Gravy"
Leave a Comment