Pecan Pie Brownies
When Hubby and I were visiting his family for Thanksgiving, his mom told me that we'd be having our Thanksgiving dinner at 2pm, then she invited the whole extended family over for desserts at 7pm. In the days leading up to Thanksgiving, we determined that we needed an extra dessert for the evening dessert get together.
After examining the list of desserts already on the menu, I knew I wanted to make something with chocolate. We had all of the other classic holiday flavors covered – apple, pumpkin, and cranberry. Since pecan pie is a given at my family holiday gatherings, I was originally going to make a classic pecan pie. Me being me, I decided that was too predictable and wanted to mix things up.
For some reason, I got the idea of a chocolate pecan pie in my head. But let's not kid ourselves. Pie crust still scares the crap out of me. And we had plenty of pies already on the menu. The obvious next thought in my mind was to make something like a pie but without a crust. Then my mind went to brownies, as it does more often than I'd like to admit.
I decided to search the Internet since I was sure this had been done before. I found a recipe that I used for a guide on the proportions. I used my all-time Favorite Brownie Recipe as a base.
These Pecan Pie Brownies are rich. And fudgey. And absolutely amazing. If you like pecan pie and chocolate, you have to make these. I cut them small since they are pretty intense and served them with freshly whipped cream. If you're looking for a dessert to make this holiday season that will knock people's socks off, try these Pecan Pie Brownies.
One Year Ago: White Chocolate Gingerbread Blondies
Two Years Ago: Turnip Puff, Honey Yeast Rolls, and Pumpkin Praline Cake
Three Years Ago: Snickerdoodle Blondies and Mint Brownies
Four Years Ago: The Great Sugar Cookie Debate and Fudge
Five Years Ago: Soft Pretzels and Easy M&M Treats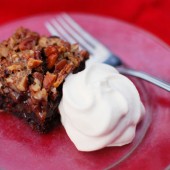 Pecan Pie Brownies
Ingredients:
For the Brownie Layer
1/2 cup (1 stick) unsalted butter
1 cup + 2 Tbsp sugar
1/2 cup + 2 Tbsp cocoa
1/2 tsp salt
1/2 tsp baking powder
1/2 tsp espresso powder, optional
1/2 Tbsp vanilla
2 eggs
3/4 cups flour
1 cup chocolate chips
For the Pecan Pie Layer
1/2 cup honey or corn syrup
1/2 cup brown sugar
2 eggs
2 Tbsp vanilla
1/4 cup (1/2 stick) butter, melted
2 cups chopped pecans
Directions:
For the Brownie Layer
Preheat the oven to 350°F. Lightly grease a 8"x8" pan
In a saucepan set over low heat, melt the butter, then add the sugar and stir to combine.
Transfer the sugar mixture to a medium-sized mixing bowl, if you've heated it in a saucepan. Stir in the cocoa, salt, baking powder, espresso powder, and vanilla.
Whisk in the eggs, stirring until smooth.
Add the flour and chips, again stirring until smooth.
Spoon the batter into a lightly greased 8"x8" pan. Bake for 10 minutes while you prepare the pecan pie layer.
For the Pecan Pie Layer
While the brownies are in the oven, mix the pecan pie layer.
In a medium bowl, combine the corn syrup and sugar. Whisk until smooth.
Mix in the eggs and vanilla. Add the melted butter and stir until combined.
Stir in the pecans.
Final Assembly
After the brownies have baked for 10 minutes, remove from oven. Pour pecan pie layer over brownies and use a spatula to spread evenly to the edges of the pan.
Return to the oven and bake for 35-45 minutes until pecan pie topping is completely set.
Remove from oven and allow to cool, preferably overnight. Cut and serve with ice cream or whipped cream.
11 Responses to "Oreo Pretzel Fudge"
Leave a Comment