Mint Brownies
While I absolutely LOVE Ina's Outrageous brownie recipe (especially the Oreo variation), it is a somewhat demanding recipe. It requires a over a pound of chocolate, a pound of butter, and 7 eggs. I don't always have all of those ingredients on hand. While it's definitely my favorite brownie recipe for special occasions, I think I've found a more suitable recipe to use when the craving for a great brownie hits. The recipe uses cocoa and other ingredients that I always have in the house.
I've actually made this recipe before. I've jazzed it up with some peanut butter earlier this year and more recently with a cookie dough topping. This time I decided to add a mint flavor since I had some Andes baking chips in the cabinet. I guess I've never actually made this brownie recipe as-is, but after making all these variations of the recipe, I can vouch that it's a great recipe.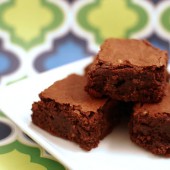 Mint Brownies
Ingredients:
1 cup (2 sticks) unsalted butter
2 1/4 cups sugar
4 large eggs
1 1/4 cups Dutch-process cocoa
1 teaspoon salt
1 teaspoon baking powder
1 teaspoon espresso powder, optional
1 tablespoon vanilla extract
1 1/2 cups all-purpose flour
2 cups Andes baking chips
Directions:
Preheat the oven to 350°F. Lightly grease a 9" x 13" pan
In a saucepan set over low heat, melt the butter, then add the sugar and stir to combine. Return the mixture to the heat briefly, just until it's hot, but not bubbling; it'll become shiny looking as you stir it. Heating this mixture a second time will dissolve more of the sugar, which will yield a shiny top crust on your brownies.
Transfer the sugar mixture to a medium-sized mixing bowl, if you've heated it in a saucepan. Stir in the cocoa, salt, baking powder, espresso powder, and vanilla.
Whisk in the eggs, stirring until smooth.
Add the flour and chips, again stirring until smooth. My chips started to melt a bit while I stirred them in. That's ok though.
Spoon the batter into a lightly greased 9" x 13" pan.
Bake the brownies for about 30 minutes, until a cake tester inserted into the center comes out clean, or with just a few moist crumbs clinging to it. The brownies should feel set on the edges, and the center should look very moist, but not uncooked. Remove them from the oven and cool completely prior to cutting.
Leave a Comment