Chocolate Cupcakes with Peppermint Patty Frosting and A Giveaway!
Now that December is here and Thanksgiving has passed, it's time to start thinking about holiday goodies. My favorite winter flavor combo is chocolate and peppermint. They just go so well together.
I decided to make some chocolate cupcakes with these fun red tulip cupcake liners and some Peppermint Crunch (both were sent to me curtosy of King Arthur Flour). I love how bright the red color on the cupcake liners is! So festive.
I have to admit that this frosting recipe is quite tasty, but kind of a pain to work with. Amanda over at Fake Ginger used it in her peppermint brownies during the holiday bakeoff I attended. It was just sticky and messy to top the cupcakes. And if you were using regular cupcake liners, it might spill over the edges because it oozes as it sets. If I were using regular liners, I think I'd fill the cupcakes with this frosting and then dip them in ganache and sprinkle the pepperminte crunch on top of the ganache.
One of the most fun things about these cupcake liners is unwrapping your cupcake. It's like opening a little holiday gift!
The best part of this all is that the awesome people at King Arthur Flour are offering up the same goodies they sent me to one lucky reader (to be chosen by Random.org)
Some Rules:
– Enter giveaway by midnight EST Thursday December 9
– US mailing addresses only
– Be sure to leave your email address or that your profile links to an email address
– To enter, leave a comment with your favorite holiday flavor (sweet or savory)
– For an extra entry, Tweet about this giveaway and come back here and leave another comment
One Year Ago: M&M Surprise Cookies
Two Years Ago: Lumberjack Cookies and Cinnamon Pork with Sweet Potatoes
Three Years Ago: Frito Candy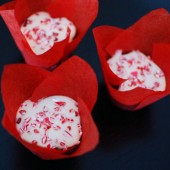 Chocolate Cupcakes with Peppermint Patty Frosting
Ingredients:
For the Cupcakes
1 cup butter
1/2 cup Dutch-process cocoa
1 cup hot water
2 cups Flour
2 cups sugar
1 tsp baking soda
1 tsp espresso powder, optional
1/2 tsp salt
1/2 cup plain or vanilla yogurt, or 1/3 cup buttermilk
2 eggs
1 tsp vanilla
For the Peppermint Patty Frosting
1 can sweetened condensed milk
2 tsp peppermint extract
3 1/2 cups powdered sugar
Directions:
For the Cupcakes
Line two muffin or cupcake pans with papers, and lightly grease the papers. If you only have one pan, you'll need to bake in shifts. Preheat the oven to 350°F.
Melt the butter; stir in the cocoa and hot water.
In a separate bowl, combine the flour, sugar, baking soda, espresso powder, and salt.
Blend the buttermilk or yogurt, eggs, and vanilla. Pour the cocoa mixture and the yogurt mixture over the dry ingredients, beating till smooth.
Pour a scant 1/4 cup of batter into each cup; a level muffin scoop works well here. Bake the cupcakes for 23 to 25 minutes, or until a cake tester or toothpick inserted into the center of one of the middle cupcakes comes out clean. Remove them from the oven and cool on a rack.
For the Peppermint Patty Frosting
Use a mixer to combine sweetened condensed milk and extract.
Mix in powdered sugar 1/2 cup at a time until combined.
Scoop 1 Tbsp of frosting onto each cupcake. Using the back of a spoon, spread the frosting but not all the way to the edge of the cupcake. Place in fridge for frosting to set up.
5 Responses to "White Chocolate and Blueberry Cupcakes"
Leave a Comment