Snickerdoodle Blondies
If you like snickerdoodles, you will absolutely love these bars. I was thinking of my sister B when I made these bars. She loves Snickerdoodles. In fact we had tried to make a different snickerdoodle blondie recipe when she visited earlier this year. They didn't turn out AT ALL. I wish we had tried this recipe back then so B could have tasted them. They're delicious.
In case you haven't noticed, I've become a HUGE cookie bar fan recently. I love the ease of just dumping the entire batch of batter into a pan and only having to listen for the timer to beep once. It's so much easier than making multiple cookie sheets worth of cookies.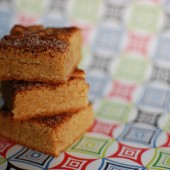 Snickerdoodle Blondies
Ingredients:
2 2/3 cups all-purpose flour
2 teaspoons baking powder
1 teaspoon Kosher salt
2 cups packed brown sugar
1 cup butter, at room temperature
2 eggs, at room temperature
1 tablespoon vanilla extract
2 tablespoons white sugar
2 teaspoons cinnamon
Directions:
Preheat oven to 350F. Lightly grease a 9 x 13 inch pan.
Sift together flour, baking powder and salt and set aside. In large bowl, beat together butter, sugar, egg and vanilla until smooth.
Stir in the flour mixture until well blended. Spread evenly in prepared pan (mixture will be somewhat cookiebatter-ish). I used my wet hands to spread the batter into the pan. Combine white sugar and cinnamon in a little bowl. Evenly sprinkle cinnamon sugar mixture over the top of the batter.
Bake 25-30 minutes or until surface springs back when gently pressed. Cool slightly. While still warm, cut into bars with a sharp knife.
11 Responses to "Pumpkin Pie Snickerdoodle Bars"
Leave a Comment