Pumpkin Praline Cake
I made this cake to take to a friend's house on Thanksgiving evening. We were getting together for desserts, wine, and board games. This cake was the star of the evening. The pumpkin cake layers were perfectly spiced and moist. The praline topping that is baked into the cake gives a great crunch and nuttiness. Last, the spiced whipped cream topping ties it all together.
I saw this cake on Pinch my Salt and knew I needed to make it as soon as possible. However, I didn't want to use cake mix, so I hit up the Internet to find a from-scratch version.
Luckily I wasn't the only one who wanted to make this awesome looking cake from scratch. I was able to find a recipe and it turned out pretty amazingly. I think this cake would be great any time of year, but I know most people consider Thanksgiving to be the end of pumpkin season.
One Year Ago: Mint Brownies
Two Years Ago: Chocolate Fudge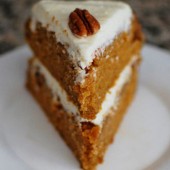 Pumpkin Praline Cake
Ingredients:
For the Cake
3/4 cup brown sugar
1/3 cup butter
3 Tbsp whipping cream
1 cup pecans chopped, and toasted
4 eggs
1 2/3 cups sugar
1 cup vegetable oil
2 cups canned pumpkin
1 tsp vanilla
2 cups flour
2 tsp baking powder
1 1/2 tsp cinnamon
1/2 tsp ginger
1 tsp nutmeg
1 tsp baking soda
1 tsp salt
For the Frosting
4 ounces softened cream cheese
1/2 tsp vanilla
1/2 – 1 cup powdered sugar
1 cup whipping cream
Directions:
For the Cake
Preheat oven to 350.
Butter two 9-inch round cake pans. Line bottoms of pans with parchment paper. In a heavy 1-2 quart pan over low heat, stir brown sugar, butter, and 3 tablespoons cream until melted and blended, about 5 minutes. Pour half the brown sugar mixture into each of the cake pans. Sprinkle cup pecans evenly into pans.
In a bowl, with a spoon, beat eggs, granulated sugar, and oil until well blended. Stir in pumpkin and vanilla. In an another bowl, whisk together flour, baking powder, spices, baking soda, and salt. Whisk dry ingredients into pumpkin mixture until well blended. Pour half the batter into each of the pans; smooth top.
Bake 30-35 minutes. Let cool in pans on racks about 5 minutes, then invert onto racks and remove pans and paper. Let cool completely, about 1 1/2 hours. Refrigerate until ready to frost.
For the Frosting
Using an electric mixer, beat the cream cheese, vanilla, and sugar until light and creamy. Beat in 1/4 cup whipping cream until smooth (scrape and stir with spatula as necessary). Add the rest of the cream and beat until it has the consistency of whipped cream (don't overmix). Spread half of the frosting between the two cake layers then spread the rest over the top layer.
Leave a Comment