Pecan Pie
I think I've decided to do a "Week of" every month. I did Cupcakes back in August, Pumpkin in October, and Cranberries in November. This month, I'm doing Family Favorites. Living away from my family makes me all nostalgic at the holidays. One way that I like to remember them is to make foods that I remember eating growing up. I already have a Family Favorites tag in my blog, but I sent an email out to our immediate families and asked what everyone's favorite family recipe was. I got a pretty good response and will be highlighting five of those recipe this week. Be sure to check back every day to check them out.
My older brother C loves pecan pie. He usually is the one who makes it on Thanksgiving. Since we didn't spend that holiday together and instead we had C and his wife over for dinner a couple weeks later, I decided to make this favorite dessert of his.
We like to keep things simple in our family. This recipe comes from the back of the Karo syrup container. It never fails. We also like to chop our pecans for our pecan pie. I know some people like to leave them whole, but I grew up eating pecan pie like this, so this is definitely how I prefer it.
This was actually the first time I've ever made pecan pie because like I said, C always makes it for Thanksgiving. I was nervous that it wouldn't set up properly. I think the key is allowing the pie enough time to cool. I baked this pie a day in advance and let it cool overnight.
A tip about the crust on this pie. I'm sure we've all seen it happen where the pie crust does not want to come out of the pie plate. That's because of the high sugar content of this pie. Here's what I do – first spray the pie plate with non stick spray, then flour the pie plate. Roll the pie crust into the pie plate and flour the pie crust. This will help to create a barrier between the very sugary filling and the pie crust so it will come out easily.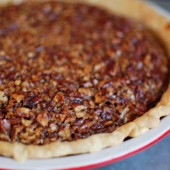 Pecan Pie
Ingredients:
1 cup Light or Dark Corn Syrup
3 eggs
1 cup sugar
2 tablespoons butter, melted
1 teaspoon vanilla extract
1-1/2 cups (6 ounces) pecans, chopped
9-inch unbaked deep-dish pie crust
Directions:
Preheat oven to 350°F.
Mix corn syrup, eggs, sugar, butter and vanilla using a spoon. Stir in pecans. Pour filling into pie crust.
Using foil strips, cover the edges of the pie crust. Place pie onto a cookie sheet for easy handling.
Bake on center rack of oven for 25 minutes. Remove foil strips and bake another 35 to 45 minutes. Cool for 2 hours on wire rack before serving.
Check out my week of Family Favorites here.
3 Responses to "Frito Candy"
Leave a Comment