Dark and Stormy
We sure had a lot of dark and stormy weather this week on the East Coast, huh? Sorry. I couldn't resist. Remember my 30-while-30 list that I worked on last year? One of the items on that list was to decide on a go-to cocktail.
That might seem like a random thing to do in my early 30s, but it really was a necessity that required exploration. You see, I was always a Captain and Coke (with grenadine) kind of girl in college. Except when I was a Bud Light kind of girl.
But throughout college, everyone knew that if we were drinking, I was having Captain and Coke. The cocktail served me well in my 20s. But then something happened. Call it growing up I suppose, but I lost the taste for my beloved Captain and Coke. In fact, I lost a taste for soda all together for the most part. It's just too sweet (says the girl with a baking blog).
So once I decided I wasn't a Captain and Coke girl anymore, I didn't know what I was. I needed a new go-to cocktail. Something I could order at any bar and know I'd enjoy it. Luckily for me, my good friend Adam had introduced us to the Dark and Stormy. It's a delicious cocktail made simply of 2 parts ginger beer to 1 park black rum. Add a lime wedge and you're good to go. This drink reminds me of great friends and great times.
The only reason it didn't take the title of ultimate go-to cocktail (Hendrick's and tonic won that title) is because of the Midwest. You see, the wonders of the Dark and Stormy haven't really made it out there yet. Finding ginger beer in the town my parents live in is a tall order and forget about ordering one at a bar…
One Year Ago: Raspberry Cream Cheese Stuffed French Toast and Strawberry Soda
Two Years Ago: White Chocolate Cranberry Mousse and Boogity
Three Years Ago: Pumpkin White Chocolate Chip Bars and Pumpkin Pecan Pie Candy
Four Years Ago: Pumpkin Pie Dip and Mini Pumpkin Whoopie Pies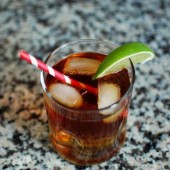 Dark and Stormy
Ingredients:
Gosling's black seal rum
ginger beer
lime wedges
ice
Directions:
Fill glass half full with ice.
Pour ginger beer over ice until glass is 2/3 full.
Top with rum.
Garnish with lime wedge
I prefer a 2:1 ratio of ginger beer to rum. Some people prefer close to a 3:1 ratio.
2 Responses to "Cucumber Lemonade Cocktail"
Leave a Comment