White Chocolate Cranberry Mousse
This cranberry mousse was used as the frosting on my fall cupcakes from the other day. It paired very well with the white chocolate cupcakes filled with cranberry sauce. But it was also awesome on it's own. I loved the pretty pink color and the hint of orange in the mousse. Hubby and I enjoyed this mousse and agreed it would be great to have as a lighter dessert option for Thanksgiving.
The best thing about this mousse is that it's naturally PINK! That makes it perfect to enter into my Power of Pink Challenge. There are still a couple days left to get your entry in.
One Year Ago: Pumpkin White Chocolate Chip Bars and Pumpkin Pecan Pie Candy
Two Years Ago: Pumpkin Pie Dip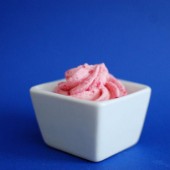 White Chocolate Cranberry Mousse
Yield: 8 or frosts 18 cupcakes
Ingredients:
1 1/2 cups fresh cranberries
6 Tbsp granulated sugar
1/4 cup water
Zest of 1 medium orange
1 Tbsp Grand Marnier, Triple Sec, or other orange liqueur
3 oz white chocolate, finely chopped
1 cup whipping cream
Directions:
In a small saucepan, combine the cranberries, sugar and water. Bring to a boil over medium-high heat. Reduce the heat to medium and continue to cook, stirring often, until the mixture thickens and becomes a jam-like, about 8-10 minutes total. Strain the mixture through a fine strainer into a medium bowl, pressing hard onto the solids. Add the orange zest and liqueur, stir. Cool to room temperature.
In a small, microwave-safe bowl, melt the chopped white chocolate by heating it in 30 second intervals in the microwave. Stir well with a fork between each interval and cook only until the chocolate is smooth when stirred.
Whip the cream in a medium bowl until soft peaks form. Fold about a third of the whipped cream into the cranberry mixture. Then fold in the melted chocolate. Fold in the rest of the whipped cream. Spoon or pipe into the serving glasses or bowls. Refrigerate for at least 2 hours before serving. Cover with plastic wrap without touching the surface if refrigerate longer.

Don't forget about my Power of Pink Challenge – make something PINK by the end of the month to raise Breast Cancer Awareness!
6 Responses to "Am I a cupcake Hero?!?"
Leave a Comment