Pumpkin Pecan Pie Candy
It's the third day of A Week of Pumpkin. And today we're going to mix it up a bit. I don't make candy. It's just not my thing. I like to make things that go into the oven. But I wanted to step out of my comfort zone for a minute to try these candies.
My friend KT really liked these candies. I thought they were a bit too sweet. I know I used sweetened coconut instead of unsweetened, but I reduced the sugar by 1/2 cup. If I made these again, I might reduce the sugar by another 1/4 cup or so. These candies taste like a pumpkin flavored pecan pie and were really fun and messy to make. These would go great on a holiday treats tray for sure.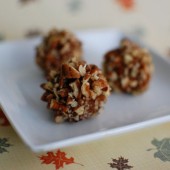 Pumpkin Pecan Pie Candy
Ingredients:
1 (15oz) can pure pumpkin
2 cups white sugar - since my coconut was sweetened, I cut the sugar down to 1 1/2 cups
2 cups unsweetened coconut - I couldn't find unsweetened, so I used sweetened coconut
1 tsp ground cinnamon
1/4 tsp ground nutmeg
1/8 tsp ground cloves
1/2 tsp vanilla extract
1 1/2 cups chopped pecans
Directions:
In a medium saucepan, combine the pumpkin, sugar, coconut, cinnamon, nutmeg, and cloves. On medium heat, cook and mix together and allow sugar to dissolve. Continue cooking and stirring until mixture forms into a ball, about 15-20 minutes. Have patience, it will eventually turn into a ball once the liquid evaporates.
Remove mixture from heat and add in vanilla. Transfer to a heat safe bowl and cover mixture with plastic wrap so a skin does not form. Chill in refrigerator until cool.
Using a cookie scoop that is about a TBSP size, scoop up balls and roll in the palm of your hands. Roll balls in the chopped pecan, coating all sides. Put back in fridge to let set.
Store in airtight container up to a week.
And don't forget about my Power of Pink Challenge going on all month.
Check out my week of pumpkin here.
Leave a Comment