Strawberry Soda
Being a Foodbuzz Tastemaker has been a lot of fun for me. Through the partnership with them, I was able to host a Boston Cupcake Crawl and enjoyed participating in the Foodbuzz Project Food Blog last year. From time to time, they offer us the option to try out various products. When I saw the email about this Tervis Tumbler, I knew I needed to sign up.
You see, Hubby and I both drink a LOT of water. It's basically the only thing that we have to drink in the house. Except for alcohol, obviously. I'm kind of picky about my water. It has to be cold. Really really cold. And I have to have a straw. This insulated tumbler is awesome at keeping my water cold. It also gave me an opportunity to post a tasty PINK beverage! We both enjoyed this fruity strawberry soda as a treat after dinner instead of dessert.
One Year Ago: Roasted Beet Hummus and Boogity
Two Years Ago: Pumpkin Pecan Pie Candy
Three Years Ago: Mini Pumpkin Whoopie Pies and Ginger Pumpkin Cupcakes
Four Years Ago:
Don't forget about my Power of Pink Challenge – make something PINK by the end of the month to raise Breast Cancer Awareness!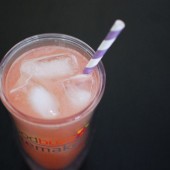 Strawberry Soda
Ingredients:
For strawberry syrup:
1/2 lb strawberries, trimmed and hulled
2 tsp white vinegar
5 Tbsp sugar
For the strawberry soda:
seltzer
strawberry syrup (2 1/2 Tbsp for every 12 oz of seltzer)
ice
Directions:
Make the strawberry syrup:
Place strawberries in blender and pulse until smooth. Add vinegar and mix well.
Pour through a fine mesh strainer over a large bowl and let drain. Press liquid through to get all the juice from the berries. Discard the pulp.
Transfer juice to a medium pot and add sugar. Stir and bring to a boil. Reduce heat and let simmer for 5 minutes. Allow to cool and store in fridge. Yields 2/3 cup of syrup.
Make the strawberry soda:
For a 12 oz soda, pour 4 oz of seltzer into a glass. Add 2 1/2 Tbsp of strawberry syrup and stir until combined. Add remaining 8 oz of seltzer and stir. Top off with ice.
5 Responses to "Balsamic Basil Strawberry Shortcake"
Leave a Comment