Date, Cherry, Goat Cheese Spread
Dates are one of those foods that are kind of weird… They look like nothing else you'll find in the grocery store. But they pack a punch of chewey carameley sweetness that can't be rivaled.
I have to admit. The only other thing I've ever made with dates in my life are these Bacon Wrapped Dates. Like anything wrapped in bacon, they were delicious. This time around, I wanted to make something more original with my dates.
I decided to pair them with another ingredient I rarely use, and one I use all the time. Mixing goat cheese into recipes always provides a subtle saltiness and creaminess. I threw in the chopped cherries because I'm trying to use them more and I had some on hand.
I mixed these ingredients together and threw in some almonds for texture and called it a day. No sense in messing with a good thing. I threw it all on some toasted baguette and Hubby and I had a nice little afternoon snack.
One Year Ago: Blueberry Cinnamon Rolls, Homemade Mayo, and Blueberry Salsa over Grilled Mahi Mahi
Five Years Ago: Sauteed Mushrooms
Note: Nature Delights sent me a box of medjool dates to try out and come up with a recipe to use them in.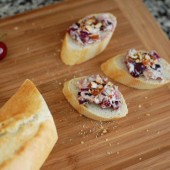 Date, Cherry, Goat Cheese Spread
Ingredients:
1 cup cherries, stemmed, pitted, and quartered
6 dates, pitted and chopped
1 cup crumbled goat cheese
3/4 cup toasted almonds, chopped
baguette, sliced and toasted if desired
Directions:
Combine first four ingredients in a small bowl. Be sure not to over mix.
Spread onto bread or toast and enjoy!
Leave a Comment