Homemade Granola
Online showers are so much fun! I love being able to virtually share excitement about a friend's upcoming nuptuals or the arrival of a new bundle of joy. Spoiler alert, two of my posts this week are for virtual baby showers. First up is Ashley from Ashley's Cooking Adventures. Ashley is due in just a few short weeks and since she loves breakfast foods, that's the theme for the shower!
I decided to whip up some Homemade Granola for this virtual baby shower (in reality, the granola came to work with me). I'm actually not a granola eater myself. Probably because I hate the texture of yogurt, and what else do you do with granola… But after making this granola at home, I figured out that you can eat it in a bowl of milk just like cereal – YUM!
I love recipes like this where it's just a ratio of ingredients. That way you can use whatever you prefer or have on hand. I made sure to include dried blueberries because Hubby loves blueberries so much. Everyone at work loved the granola and it would be great to serve at a brunch themed baby shower. Especially if you package it in small mason jars with a bit of ribbon tied around the top.
Two Years Ago: Fresh Strawberry Cupcakes with Cream Cheese Frosting
Three Years Ago: Roasted Red Pepper Dip and Samoas Bars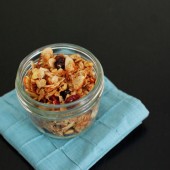 Homemade Granola
Making granola at home is an easy way to ensure you know what your family is eating!
Ingredients:
Dry Ingredient Possibilities
Old-Fashioned oats
Nuts
Dried fruits
Seeds (sesame, flax, sunflower, pumpkin)
Shredded or flaked coconut
Brown sugar
Cinnamon
Citrus zest
Chocolate chips
Wet Ingredient Possibilities
Maple Syrup
Honey
Canola oil
Vanilla
Molasses
Unsweetened apple sauce
Peanut butter
Ingredients I used
4 cups old-fashioned rolled oats
1 cup slivered almonds
1/2 cup pumpkin seeds
1 cup shredded unsweetened coconut
1 Tbsp cinnamon
1/4 cup canola oil
3/4 cup honey
1/2 cup brown sugar
1 egg white, beaten
1 cup dried blueberries
1 cup dried cranberries
Directions:
Feel free to choose any combination of ingredients. You want 9 parts dry ingredients to 1 part wet ingredients.
Preheat the oven to 300 degrees and lightly spray a large, rimmed baking sheet.
In a large mixing bowl, combine oats, nuts, seeds, coconut, and cinnamon.
In a saucepan over low heat, combine oil, honey, and brown sugar. Bring to a simmer and remove from heat.
Gently pour the hot syrup over the dry ingredients and use a rubber spatula to mix everything together.
Add the beaten egg white if you want clumpy granola.
Spread the mixture on the prepared baking sheet in an even layer.
Bake for around 25 minutes or until golden. While it's baking, stir the granola around on the baking sheet from time to time so it will cook evenly.
Remove from the oven and allow to cool completely.
Gently break apart and add dried fruit.
Store in a sealed, airtight container.
Always add dried fruits at the end, after the granola has cooled.
Store in an airtight container for 3 weeks. Any longer and the nut oils may go rancid.
34 Responses to "Spicy Peach Jalapeno Jam"
Leave a Comment