Blueberry Cinnamon Rolls
Do you remember those amazing cinnamon rolls I posted a couple weeks ago? You want to know how to make an amazing breakfast recipe even better? Add a classic breakfast fruit – blueberries! I figured since blueberries make great muffins and pancakes, they would almost make great cinnamon rolls. Hubby was obviously on board with this idea.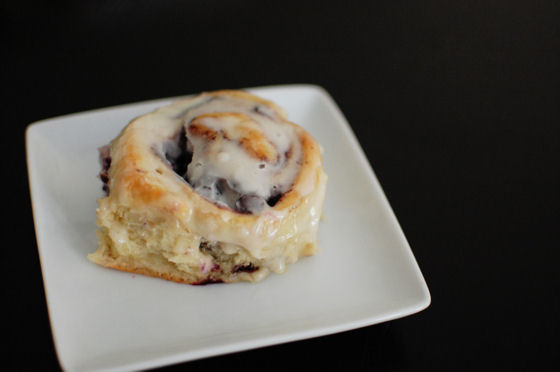 I set out to find recipes for blueberry cinnamon rolls. After finding a variety of recipes out there, I decided to use the dough from the cinnamon rolls I previously posted and just kind of make it up for the filling.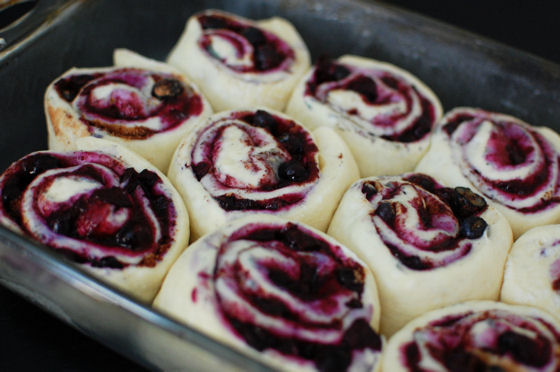 I knew I wanted to have some cooked blueberries to give a gooey-oozey factor to the filling, but I also wanted some raw berries thrown in there to give that juiciness when you bite into it. I also wanted the filling to have the classic punch-you-in-the-face cinnamon flavor. So after spreading the cooked blueberry jam onto the dough, I topped it with some cinnamon sugar.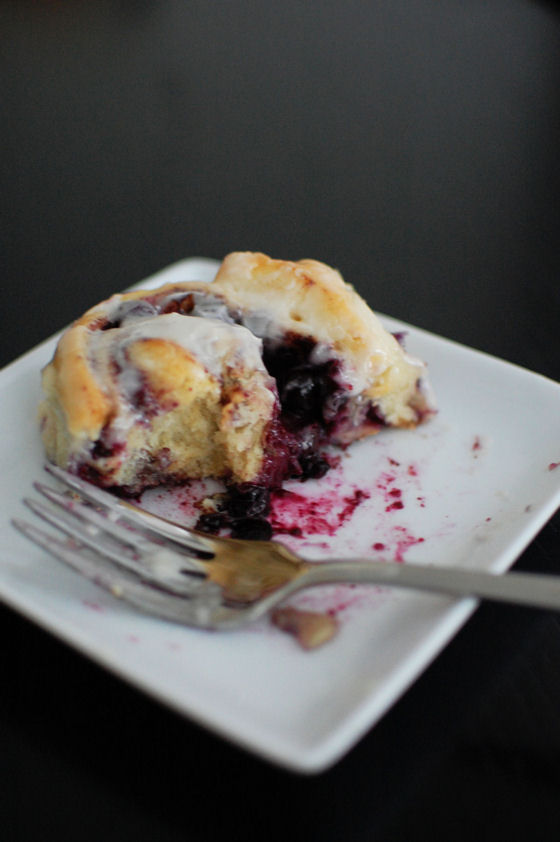 I love how beautiful the color of the filling in these cinnamon rolls came out. It's that perfect purplish blue color that comes only from fresh blueberries.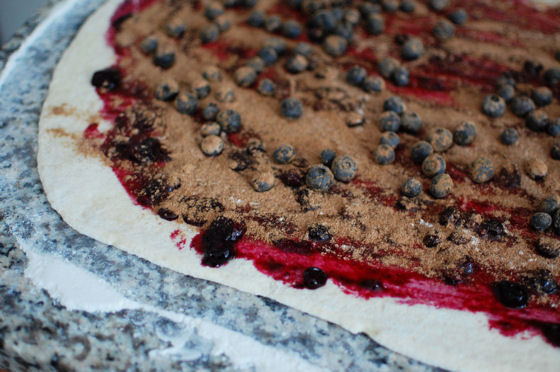 As with the "plain" cinnamon rolls (if you can even call them plain), I topped these Blueberry Cinnamon Rolls with some cream cheese frosting that I had leftover in the fridge (here is the recipe to my Go-To Cream Cheese Frosting). Hubby and I gobbled these up and then took leftovers to work to share them with our coworkers.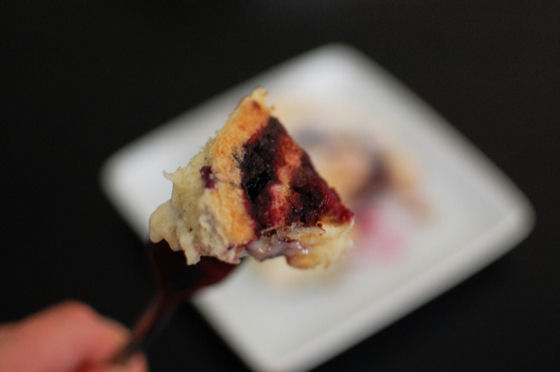 Two Years Ago: Strawberry Peach Basil Cupcakes, Pink Lemonade Cupcakes, and Crockpot Roast Beef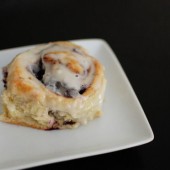 Blueberry Cinnamon Rolls
Everyone loves cinnamon rolls for breakfast. These guys have a blueberry and cinnamon filling!
Ingredients:
For the Dough
2 cups whole milk
1/2 cup vegetable oil
1/2 cup sugar
2 1/4 tsp active dry yeast
4 cup flour
1/2 cup flour
1/2 heaping tsp baking powder
1/2 scant tsp baking soda
1/2 tbsp salt
For the Blueberry Filling
1 pint blueberries
3 tablespoons granulated sugar
2 teaspoons cornstarch
2-3 teaspoons lemon juice
3/4 cup water
Additional Blueberries for Sprinkling
1 pint blueberries
2 Tbsp sugar
4 Tbsp cinnamon
2 Tbsp flour
1 batch Cream Cheese Frosting
Directions:
For the Blueberry Filling
In a small saucepan, combine 1 pint of the blueberries, sugar and cornstarch. Stir in lemon juice and water. Turn heat to medium and cook, stirring often, until mixture begins to thicken slight. Remove from heat and allow to cool.
For the Dough
Mix whole milk, vegetable oil and sugar in a pan. Scald to 150 degrees. Let cool until lukewarm (~45 minutes). Sprinkle in yeast and let sit. Then add 4 C flour, stir mixture together. Cover and let sit for one hour.
Add 1/2 C flour, baking powder, baking soda, and salt. Stir mixture together.
Divide the dough in half. Sprinkle surface generously with flour and form into a rectangle, roll the dough thin, maintaining a rectangular shape. Spread half of the blueberry filling onto the dough. Combine the blueberries, sugar, cinnamon and flour. Sprinkle half of this mixture on top. Roll the dough toward you. Pinch the seam to seal it. Grease foil cake or pie pans. Cut rolls 3/4 to 1 inch thick and lay in greased pans. Repeat with other half of dough and blueberry filling.
Cover the rolls and let sit for 30 minutes.
Bake at 375 for 15 to 18 minutes.
Generously drizzle frosting over warm rolls after they come out of the oven.
Leave a Comment