Baked Brie with Grape Balsamic Compote
Today I bring you guys the last of my purple food posts. It took a couple weeks, but we made it! This is another recipe that I'm pretty proud of. I rarely make up my own recipes and this is one of those rare exceptions. For whatever reason, the idea of using grapes to make purple food didn't cross my mind until the day before the party.
I had put baked brie on the menu and had planned to make a blueberry compote to put on top. But then it hit me – use grapes (duh!) So I used this blueberry sauce as an inspiration for the compote. I wanted it to be thicker, so I bumped up the amount of cornstarch.
I was a bit concerned that it would be too sweet, and I know balsamic pairs well with strawberries, so I decided to make the cornstarch slurry using balsamic vinegar instead of water. It worked like a charm. This grape balsamic compote was nice and thick and had a subtle savory tone from the balsamic. I added some toasted almond slivers to give it some texture and voila – I had created an AMAZING appetizer that was also purple.
The Baked Brie with Grape Balsamic Compote was a huge hit. And I've made it twice since the party. I used a goat milk brie wheel so that I could enjoy this appetizer. The goat milk wheels are 6 oz. I believe cow's milk brie wheels come in 8 oz containers, but you should have enough compote using the recipe below.
I also wanted to share this trick about baking brie with you guys. I can't remember where I learned this but Hubby was shocked when he saw me pop the "lid" off the brie after it had baked. Prior to baking your brie, use a sharp knife to cut around the top of the rind. You don't want to cut it completely off, just cut about a 1/4 inch into the brie right under the top all the way around. While the brie is in the oven, the cheese will get all melty and gooey. Then when you take it out of the oven, you can just remove the top of the rind like so:
Hope you guys have enjoyed all the purple food. As a reminder, here are the other foods I serves at my 1000th Post Party:
Two Years Ago: Homemade Oreos (again)
Three Years Ago: Coconut Lime Cupcakes
Four Years Ago: Dairy Free Mac and Cheese with Broccoli and Cauliflower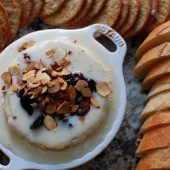 Baked Brie with Grape Balsamic Compote
Fruit and cheese are such a classic combination. I used a 6 oz wheel of brie because I use goat milk brie. If you use an 8 oz wheel, bump up the ingredients of the compote a bit as well.
Ingredients:
For the Compote
1 cup black seedless grapes
1 1/2 Tbsp sugar
1/2 Tbsp cornstarch
2 tsp balsamic vinegar
For the Brie
6 oz wheel of brie
1/4 cup slivered almonds, toasted
crackers and/or toasted baguette for serving
Directions:
For the Compote
Poke 2-3 holes in each of the grapes and place in a medium pan. Add the sugar and cook over medium heat. Use a potato masher to encourage the grapes to release their juices.
Combine the cornstarch and balsamic vinegar in a small bowl.
Once the grapes have released most of their juices, stir in the slurry and boil for one minute. Remove from heat and allow to cool.
For the Brie
Preheat oven to 350.
Place brie round in a small oven-safe dish. Using a sharp knife, cut into the rind about 1/4" all the way around, just under the top of the brie. You don't want to cut the top completely off.
Bake 10 minutes.
Place dish onto a larger platter. Lift the top of the brie with a knife and remove. Spoon grape compote on top of brie. Sprinkle with toasted almonds.
Serve with baguette slices and crackers.
9 Responses to "Goat Cheese and Sundried Tomato Appetizers"
Leave a Comment