Amazingly Blueberry-ey Blueberry Muffins
Last summer, Hubby and I went blueberry picking with some friends. We came home with tons and tons of blueberries (15 pounds to be exact!). I whipped up a bunch of blueberry treats, like Cinnamon Blueberry Rolls, Blueberry Cobbler Bars, and even some Blueberry Salsa over Grilled Mahi Mahi. Even after all these yummy blueberry treats, I still frozen quite a few blueberries so we could enjoy them all year.
Hubby likes to sit down with a bag of frozen blueberries and just snack on them. But he lets me bake with some of them as well. These muffins really are Amazingly Blueberry-ey Blueberry Muffins. They're bursting with berry deliciousness. The blueberry jam swirled into the top of the muffins add an extra burst of flavor. I love this idea and can't wait to try it with other fruit muffins.
One Year Ago: Black Forest Cupcakes for Frosting for the Cause
Two Years Ago: Chinese Restaurant Almond Cookies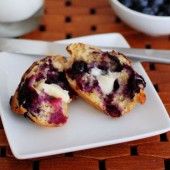 Amazingly Blueberry-ey Blueberry Muffins
Swirling blueberry jam on top of these muffins before baking them really takes them to the next level.
Ingredients:
For the Jam
1 cup fresh or frozen blueberries
1 tsp sugar
For the Muffins
1 cup fresh or frozen blueberries
1 1/8 cups sugar
2 1/2 cups flour
2 1/2 tsp baking powder
1 tsp table salt
2 eggs
4 Tbsp butter , melted and cooled slightly
1/4 cup vegetable oil
1 cup buttermilk
1 1/2 tsp vanilla
Directions:
For the Jam
Bring 1 cup of blueberries and 1 teaspoon of sugar to a simmer in a small saucepan over medium heat. Cook the berries, mashing with a spoon several times to break some of the berries open.
Stir frequently until mixture is thickened and reduced to about a 1/4 cup (about 6 minutes).
Transfer to small bowl and cool to room temperature, 10 to 15 minutes.
For the Muffins
Preheat oven to 425F. Spray muffin tin with nonstick cooking spray.
Whisk flour, baking powder, and salt together in large bowl.
Whisk 1 1/8 cups sugar and eggs together in a medium bowl until thick and texture is consistent (about 45 seconds).
Slowly whisk in butter and oil until combined. Whisk in the buttermilk and vanilla until combined.
Using a rubber spatula, fold the egg mixture and the remaining cup of blueberries into the flour mixture until just moistened (batter will be very lumpy with a few spots of dry flour; do not overmix).
Divide the batter equally among the prepared muffin cups (batter should completely fill cups and mound slightly).
Spoon a teaspoon of jam into center of each mound of batter. Use a chopstick or skewer to gently swirl the berry jam into the batter using figure-eight motion.
Bake until the muffin tops are golden and just firm, about 17 to 19 minutes rotating muffin tin from front to back halfway through baking. Cool muffins in muffin tin for 5 minutes, then transfer to wire rack and cool 5 minutes before serving.
5 Responses to "Canning Party and Jam Maker Peach Jam"
Leave a Comment