Cranberry Apple Pumpkin Muffins
After making these pumpkin cranberry muffins a couple weeks ago, Hubby said I didn't need to ever try another muffin recipe again. He said they were the best I had ever made and he could eat them forever. Now, I've made quite a few different muffin recipes. And for anyone who knows me in real life, they know that I don't just stop trying new recipes. It's just not my thing. It annoys my family sometimes when they ask me to make something I've already made and I get all hesitant because I've already tried the recipe. Don't get me wrong, some recipes I do repeat, but not so much for baked goods…
When I gave Hubby one of these muffins to try, he first thought it was a repeat of the pumpkin cranberry muffin. When I told him it was a new recipe, he seemed apprehensive. But I can say without any hesitation that these are much better (in my opinion) than the pumpkin ones of a few weeks ago. These muffins add a few extra flavors and textures. I love the different textures from the apples, cranberries, and nuts in the muffins. And they're quite colorful!
I ended up using walnuts and pecans because that is what I had on hand. This is the type of recipe that you can adapt to fit your pantry. I used Granny Smith apples and next time I'll be sure to chop them a bit smaller. I really enjoyed the bites with the fresh cranberries in them. The small punch of tartness is just great. As always, I doubled the recipe so that I would have muffins to freeze for us.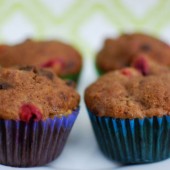 Cranberry Apple Pumpkin Muffins
Ingredients:
1 1/2 c. all-purpose flour - I used 1/2 whole wheat and 1/2 all purpose
1 tsp ground cinnamon
1/4 tsp nutmeg
1 tsp baking soda
1/2 tsp salt
1 c. sugar
1/4 c. light brown sugar
1/2 can (or 7.5 oz) pumpkin puree
2 large eggs
1/4 c. oil
1/4 c. applesauce
1/4 c. milk
1 tsp vanilla extract
1 medium apple peeled, cored, and diced
1 c. fresh cranberries
1 c. chopped pecans - I used 1/2 pecans and 1/2 walnuts
Directions:
Preheat oven to 350 degrees. Prepare muffin pans.
In large bowl, combine flour, cinnamon, nutmeg, baking soda, salt and whisk to combine.
In another large bowl, combine sugar, pumpkin, eggs, oil, applesauce, milk, vanilla and stir to combine well.
Add dry ingredients to wet ingredients and stir until just barely blended. Fold in apples, cranberries and pecans.
Spoon batter into prepared pan. Bake for ~30 minutes or until wooden pick inserted into center comes out clean. Remove from oven and let cool in pan for 10 minutes.
Check out my week of Cranberries here.
3 Responses to "Homemade Cinnamon Applesauce"
Leave a Comment