Roasted Blueberry Cupcakes
I have to admit, I never would have thought to roast bluberries. As much as I love roasting almost any kind of vegetable, the thought literally never crossed my mind. Then I saw this recipe for Roasted Blueberry Cupcakes and was instantly intrigued.
The batter of these cupcakes is a very pretty purple and it tastes amazing. Roasting blueberries brings out their sweetness and heightens that flavor. I probably ate a whole cupcake worth of just the batter, it was that delicious. After the cupcakes were baked, they still carried the strong roasted blueberry flavor that was evident in the batter.
I decided to top mine with cream cheese frosting and some purple edible glitter to dress things up for my 1000th Post Party. I am hoping to make these again with various other roasted fruits. I'm thinking raspberry or strawberry next…
Have you ever roasted fruit?
One Year Ago: Cinnamon Chip Scones and Hummingbird Cupcakes with Pineapple Flowers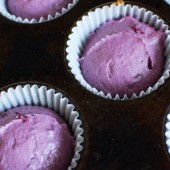 Roasted Blueberry Cupcakes with Cream Cheese Frosting
Roasted blueberries have a strong sweet flavor that comes through perfectly in these cupcakes
Ingredients:
1 1/2 cups fresh blueberries
1 cup sugar
1/2 cup butter
2 eggs
2 tsp vanilla
1 3/4 cups flour
1 1/4 tsp baking powder
1/4 tsp salt
2-3 Tbsp milk
1 batch Cream Cheese Frosting
Directions:
Preheat oven to 350 degrees F.
Spread blueberries on a baking sheet (with sides) and roast for 10-15 minutes, or until berries start to burst. Remove from oven and let cool.
Beat butter and sugar together in the bowl of an electric mixer until fluffy, about 4-5 minutes.
Add eggs and vanilla and mix until combined, another 2-3 minutes.
Add flour, baking powder and salt with the mixer on low speed, then gradually increase speed.
Scrape in blueberries and beat on medium speed until the berries break down – about 2-3 minutes. At this point, the berries most likely have enough liquid that you only need to add a small amount of milk to the batter.
Begin adding 1 tablespoon of milk at a time and beat with the mixer until the batter is smooth. You definitely want it to be cake batter and not dough. (My batter took 2 Tbsp of milk)
Pour into cupcake liners, filling 2/3 of the way full, and bake for 18-22 minutes or until cake is set. Let cool completely, then frost.
6 Responses to "Strawberry Blonde Cookies-n-Cream Ice Cream"
Leave a Comment