Caramelized Red Onion Tart
When I was thinking about how to incorporate red onions into my 1000th Post Party menu, I decided to search foodgawker. When I saw this Caramelized Red Onion Tart, I was instantly drawn in by how pretty it was. As I read the recipe, I became more intrigued by how delicious it sounded!
Caramelized onions make everything taste better. And this tart is basically caramelized onions mixed with fresh thyme piled on top of a flaky buttery pie crust. What is better than that?!? This recipe was the surprise hit of the night. Multiple people said it was their favorite thing. And it was definitely my favorite savory treat. I will definitely be making this again!
One Year Ago: Cinnamon Banana Bread and Roasted Banana Soft Serve
Two Years Ago: Lemon Raspberry Layer Cake
Four Years Ago: Peanut Butter Chocolate Chip Cookies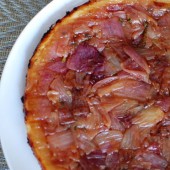 Caramelized Red Onion Tart
Caramelized red onions make this savory tart beautiful and delicious!
Ingredients:
For the Pie Crust
2 1/2 cups all-purpose flour
1/4 teaspoon salt
1 tablespoon sugar
1 cup (2 sticks) unsalted butter, chilled and cut into small pieces
1/4 to 1/2 cup ice water
For the Tart
4 Tbsp butter
6 tsp sugar
1 pound red onions, cut in wedges
3 Tbsp red wine vinegar
2 Tbsp fresh thyme leaves
Salt
Pepper
Directions:
For the Pie Crust
In the bowl of a food processor, combine flour and salt; pulse to combine. Add butter, and pulse until mixture resembles coarse crumbs with some larger pieces remaining, about 10 seconds. (To mix by hand, combine dry ingredients in a large mixing bowl, then cut in butter with a pastry blender.)
With machine running, add ice water through feed tube in a slow, steady stream, just until dough holds together without being wet or sticky. Do not process more than 30 seconds. Test by squeezing a small amount of dough together; if it is still too crumbly, add a bit more water, 1 tablespoon at a time.
Turn out dough onto a clean work surface. Divide in half, and place each half on a piece of plastic wrap. Shape into flattened disks. Wrap in plastic, and refrigerate at least 1 hour or overnight. The dough can be frozen for up to 1 month; thaw overnight in the refrigerator before using.
For the Tart
Put the butter and sugar in a frying pan and let them melt until well combined.
Add the red onion wedges and cook them on a slow fire for 10 to 15 minutes, stirring until caramelized. Add the vinegar and thyme, salt and pepper and let the onions cook till the liquid is fully absorbed.
Roll out your pie crust in a round shape and keep it aside.
Preheat oven to 350 F.
Cover the base of the springform pan with baking paper and put onions on it.
Cover them with the pie crust circle and tuck the pastry well on the sides.
Bake for 20-25 minutes (or until golden).
When ready take it out of the oven and let it rest for 10 minutes so that the juices dry and caramelize. Then flip over and serve.
One Response to "Rabbit Food"
Leave a Comment