Mango Avocado Salsa
I have confessed my love of avocado many many times. I freaking love those things. I believe that avocado is one of those foods you can add to almost anything and it'll taste better. I love using avocado to add creaminess to salads.
Obviously one of the best ways to enjoy avocado is on top of a tortilla chip. The mango in this salsa provides a nice sweetness to balance out the red onion. I made a double batch of this Mango Salsa when we had some friends over and this was the first dish to get devoured. It's amazing.
One Year Ago: Pomegranate Cranberry Quinoa Salad
Two Years Ago: Gooey Bars
Three Years Ago: Crockpot Tamale Pie and Inauguration Day Cupcakes
Four Years Ago: Clam Chowder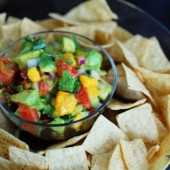 Mango Avocado Salsa
Ingredients:
1 mango, peeled and diced
1 avocado, peeled and diced
1 Roma tomato, seeded and diced
2 cloves garlic, minced
1 jalapeño, seeded and diced
1/4 cup chopped fresh cilantro
Juice from one fresh lime
1/2 cup chopped red onion
1 Tablespoon olive oil
Salt and pepper, to taste
Tortilla chips, for serving
Directions:
Stir together all ingredients in a medium bowl. Cover and let the flavors blend in the refrigerator for at least 30 minutes before serving.
Leave a Comment