Gooey Bars (aka Cream Cheese Bars)
I have no idea what these bars should actually be called or where this recipe really came from… It's likely to have come on the back of a cream cheese box for all I know. (Actually, Google helped me to find this recipe which is the same). This is another recipe that my family loves. My sisters practically know this recipe by heart. Similar to the "best dang thing ever bars", my sisters also prefer to underbake these bars, hence the name gooey bars. I tend to like my bars fully cooked so they hold their shape better. If you prefer an even gooier texture, take these out of the oven a couple minutes early.
I know some of you will shudder at the thought of using a box cake mix. I agree that in general, I would much rather make a cake/cookie/brownie from scratch. For starters, it's a lot more fun as a baker to measure everything out and follow a recipe that has more than two steps. Not to mention knowing exactly what is in your food (and being able to pronounce it all!) I do however believe that boxed cake mix has a time and a place. One of those places being in this bar.
These bars taste almost like a cheesecake with a great chewy shortbread crust. Everyone that tried one really enjoyed them and Hubby ate an embarassingly large number of these bars.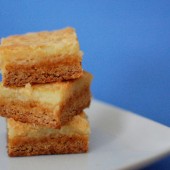 Gooey Bars
Ingredients:
1 box yellow cake mix
1/2 cup butter, melted
3 eggs
1 pound powdered sugar
1 8-oz package cream cheese
Directions:
Mix cake mix, margarine & 1 egg with fork. Press into bottom of greased 9 x 13 pan, set aside.
Beat powdered sugar, cream cheese and 2 eggs for 4 or 5 minutes. Pour over cake mixture.
Bake at 350 for 40 minutes. Cool completely. Cut into bars.
Don't forget – I'm offering a chance to win a cute tote if you donate $5 or more to my Avon Walk by the end of January. See details here.
2 Responses to "Rice and Beans"
Leave a Comment