Chicken and Artichokes in Wine Sauce
Hubby and I have been trying to make new recipes at least once a week for dinner. The past few weeks, we've been kind of just eating the same things over and over again. So each Sunday before I go to the store, we both pick one new recipe. The good thing about having just two of us is that those two recipes usually feed us dinner for four nights out of the week.
I chose this recipe because I love mushrooms. And it looked like a great weeknight meal since it was pretty easy to throw together. The recipe definitely makes enough to have leftovers. I cut the chicken breasts in half so we were able to spread this out to six servings.
I plated this up family style for the pictures. We both really enjoyed the flavors of the mushrooms and artichokes. I use some of my homemade chicken broth in this recipe, which we've almost used up! It's about time for another batch.
One Year Ago: Chocolate Chip Cookie Bars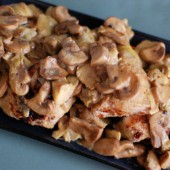 Chicken and Artichokes in Wine Sauce
Ingredients:
1/4 cup whole wheat flour
1/2 tsp dried sage, crushed
1/4 tsp salt
1/8 tsp black pepper
4 boneless, skinless chicken breast halves
2 Tbsp safflower oil
2 cups sliced fresh mushrooms
1 8 or 9 ounce package frozen artichoke hearts, thawed and halved lengthwise (I used canned)
1 Tbsp butter
1/3 cup dry white wine
1/3 cup chicken broth
1/8 tsp salt
2 Tbsp grated Parmesan or Romano cheese
2 Tbsp snipped fresh parsley
Directions:
In a shallow dish, stir together flour, sage, 1/4 teaspoon salt, pepper; reserve one tablespoon of flour mixture. Coat chicken in remaining flour mixture.
In a large skillet cook chicken in hot oil over medium-high heat for 8 to 10 minutes or until no longer pink (170 degrees F), turning once. Remove chicken from skillet; cover and keep warm. Drain off any excess oil in skillet.
In the same skillet, cook mushrooms and artichoke hearts in hot butter over medium heat for 3 minutes or until artichokes are tender.
In a small bowl stir together reserved flour mixture, wine, broth, and 1/8 teaspoon salt until smooth. Add wine mixture to skillet. Cook and stir until thickened and bubbly. Cook and stir for 1 minute more. Pour sauce over chicken. Sprinkle with parsley and cheese.
Recipe from Proceed with Caution, originally from Better Homes and Gardens New Cookbook, Bridal Edition, page 427
5 Responses to "Dirty Laundry for Dinner ? (Ropa Vieja recipe)"
Leave a Comment