The Perfect Fall Grilled Cheese Sandwich
The second I saw this recipe in my Food Network magazine, I knew I had to try it. This sandwich really is the perfect fall grilled cheese. It starts with some hearty wheat bread. Next comes a layer of cheddar cheese. Thinly sliced butternut squash gets roasted with some maple syrup and chili powder for the next layer. As if that doesn't sound good enough, a big heaping pile of balsalmic caramelized onions get stacked on along with some slivered almonds for crunch. And last but not least, another layer of cheddar cheese. Seriously, tell me that doesn't sound amazing.
Hubby and I have made these sandwiches more times that I care to count in the last few weeks since I first made one. I don't actually measure the ingredients precisely, I just kind of stack the sandwiches together in a ratio that sounds good.
One Year Ago: Banana Cinnamon Chip Blondies, Apple Slab, Cappuccino Toffee Brownie Cookies, and Graham Cracker Chewy Bars
Two Years Ago: Pumpkin Spice Cookies
Three Years Ago: Shipping Cupcakes in a Jar, and Chocolate Marshmallow Bars
Four Years Ago: Black Bean Cilantro Turkey Burgers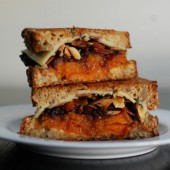 The Perfect Fall Grilled Cheese Sandwich
Ingredients:
3 Tbsp unsalted butter, plus more for the bread
1/2 butternut squash, peeled, seeded and sliced 1/4 inch thick
2 Tbsp maple syrup
1/2 tsp chili powder
Kosher salt and freshly ground pepper
1 sweet onion, thinly sliced
1/4 cup balsamic vinegar
1 tsp sugar
8 slices country wheat bread
1 pound manchego or cheddar cheese, thinly sliced
1 cup sliced almonds, toasted
Directions:
Preheat the oven to 425 degrees F. Line a baking sheet with parchment paper or foil. Melt 2 tablespoons butter. In a large bowl, toss the squash with the melted butter, maple syrup, chili powder, and salt and pepper to taste. Spread in one layer on the prepared baking sheet. Roast until golden and soft, about 20-30 minutes. Set aside and let cool.
Meanwhile, melt 1 tablespoon butter in a medium skillet over medium-low heat. Add the onion and toss to coat. Cook, without stirring, until the onion begins to develop a deep brown color, 10 to 15 minutes. Stir and add the balsamic vinegar, sugar, and salt and pepper to taste. Cook, stirring, until the onion mixture thickens and develops an intense sweetness, about 15 more minutes.
Butter 1 slice of bread. On the unbuttered side, add the ingredients in this order from the ground up: cheese, squash, caramelized onion, sliced almonds and more cheese. Close with another buttered bread slice, buttered side up. Repeat with the remaining ingredients to make 3 more sandwiches.
Heat a heavy griddle or flat pan over medium heat. Lightly cook each sandwich, in batches if necessary, until the cheese starts to melt, 3 to 4 minutes per side.
Leave a Comment