Pumpkin Spice Cookies
In case you didn't get enough pumpkin during my Week of Pumpkin, here's another recipe for you. These cookies are similar to Hubby's all time favorite cookies, but they have a subtle hint of pumpkin flavor. I like that they aren't super cakey like most pumpkin cookies. They are extremely moist and delicious. Hubby and I really enjoyed them and I think they'd make a great addition to any holiday spread.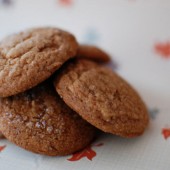 Pumpkin Spice Cookies
Ingredients:
1/2 cup unsalted butter, softened
1 cup sugar, plus 1/4 cup for rolling
1/3 cup canned pumpkin puree
1/4 cup molasses
1 egg
2 1/3 cups AP flour
2 tsp baking soda
1 tsp ground cinnamon
1 tsp ground ginger
1/2 tsp ground cloves
1/2 tsp salt
Directions:
Beat the butter in a large bowl. Add 1 cup sugar, pumpkin, molasses, and egg and continue beating until well combined and fluffy.
Sift together remaining ingredients and gradually add to wet ingredients, beating on low speed until thoroughly incorporate. Refrigerate for up to one hour or until batter can be handled (I was impatient so I put the bowl in the freezer for about 25 minutes).
Preheat oven to 350F. Place remaining 1/4 cup sugar in a pie dish. Form the batter into walnut-sized balls. roll in sugar and arrange on cookie sheets, 2 inches apart. Bake for 10 minutes, rotating pans halfway through.
Cool for a few minutes on sheets and then remove to wire racks to continue cooling.
One Response to "Pumpkin Bars with Cinnamon Cream Cheese Frosting (4 pts with frosting)"
Leave a Comment