Fall Bruschetta
Hubby and I are off to Canada for a long weekend today. We're going to see Niagara Falls with some friends from college. I'm really looking forward to the extra long weekend. But don't worry, I have some posts scheduled to keep you guys company while we're away. I finally admitted to myself (and my stomach) that fall has arrived. So now I'm starting to get really excited about all the fall baking that I have coming up!
This bruschetta screams fall to me. I brought it to Megan's surprise birthday party and it was a big hit. As you can see, the recipe includes butternut squash, apple, and eggplant. I honestly couldn't taste the apple or eggplant, so if I made this again, I'd probably leave them out unless I had some in the house to get rid of… Since I can't eat ricotta, I subbed goat cheese. Feel free to use whichever you prefer. When the topping came out of the oven, I tasted it and thought it needed some texture. So I added some toasted walnuts. The texture was a nice addition and I'm glad I made it!
This fall bruschetta is a great appetizer to bring to a potluck or party. I brought all of the components (toasts, goat cheese, and topping), then assembled them once we got to Megan's place. It worked out really well.
One Year Ago: Pizza Dough
Four Years Ago: Tofu and Veggies in Peanut Sauce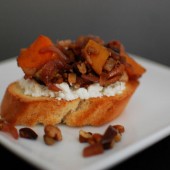 Fall Bruschetta
Ingredients:
For the Toasts:
1 baguette
Olive oil
For the Caramelized Onion:
1 red onion
1 Tbsp olive oil
1/4 cup balsamic vinegar
2 Tbsp sugar
For the Topping:
1 Tbsp olive oil
3 cups peeled & cubed butternut squash
1 1/2 cups finely diced eggplant, unpeeled
1 cup finely diced apple,unpeeled
kosher salt & freshly ground pepper
1 tsp smoked paprika
1/2 cup walnuts, chopped and toasted
1 cup goat cheese, at room temp
Directions:
To make the Toasts:
Preheat the oven to 400 degrees. Slice the baguette into 1/2" slices & lay them out on a baking sheet. Drizzle the bread slices with some olive oil & bake for about 5 minutes per side, or until lightly browned. Set aside.
To make the Caramelized Onions:
Quarter & thinly slice the onion. Heat 1 Tbsp of olive oil in a non-stick skillet. Add the onions, balsamic vinegar & sugar. Cook until the onions are softened & all the liquid is absorbed. Set aside.
To make the Topping:
Preheat the oven to 425 degrees. In a mixing bowl, toss the butternut squash, eggplant, apple, 1 Tbsp olive oil & smoked paprika. Season with salt & pepper. Spread the mixture out on a baking sheet & bake for 20-25 minutes, tossing halfway through, until the squash is just tender.
Transfer to a mixing bowl; add the onions and walnuts. Toss well. Check for seasoning & add a bit more salt & pepper, if needed.
To assemble:
Spread a bit of ricotta cheese over each toast, then spoon some of the bruschetta on top. Transfer to a serving platter & serve.
7 Responses to "Apple Slab"
Leave a Comment