Spaghetti Squash with Spinach and Raisins
If you're looking for healthy recipes and you haven't seen Cara's blog, you should definitely check it out. I've had multiple opportunities to eat Cara's food and it's all been amazing. She creates a lot of her own recipes and it's all healthy and delicious!
I decided that for my first shot at making spaghetti squash, I'd turn to Cara's blog for the recipe. Hubby and I both enjoy squash but I'd never eaten, let alone cooked a spaghetti squash. I can definitely see why it became such a big rage during the Atkins craze. It has a similar texture to spaghetti. The combination of flavors in this dish is amazing. I'll definitely be trying spaghetti squash again!
Hubby ate this as his lunch entree a couple days and really enjoyed it. I made a few changes to Cara's recipe, but for the most part it's the same.
One Year Ago: Creme Brulee – two ways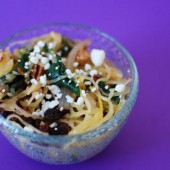 Spaghetti Squash with Spinach and Raisins
Ingredients:
1 large spaghetti squash, roasted, seeds discarded
1 Tbsp olive oil
1 small onion, sliced
1 10oz package fresh spinach, thick stems removed
1/2 c walnuts, chopped
1/2 c raisins
1oz goat cheese, crumbled
pinch of nutmeg, salt & pepper
Directions:
Preheat oven to 350. Cut off top and bottom ends of squash. Slice in half lengthwise and place onto a cookie sheet, cut side up. Roast squash for ~30 minutes until tender.
Meanwhile, toast the walnuts in a dry skillet over low heat. Remove from heat when they are fragrant and just beginning to brown.
Heat the olive oil over medium heat. Cook the onions until soft and translucent, about 10 minutes. Add the spinach, cover, and let cook until the spinach is wilted down, about 5 minutes.
Use two forks to remove the stringy flesh from the cooked spaghetti squash. Toss this with the spinach and onions, and season with salt, pepper and nutmeg. Add the walnuts and raisins and heat through. Mix in about half of the crumbled feta, and top with the rest of the cheese to serve.
Leave a Comment