Berry Cream Cheese
Being lactose intolerant hasn't been too hard for me. Luckily, I can handle goat and sheep milk products. One thing I really really miss is a warm bagel with strawberry cream cheese. Honestly, cream cheese is my nemesis. It's the one dairy product I cannot handle. Another lucky fact is that I really enjoy the flavor of the Tofutti cream cheese. Hubby enjoys it too! I honestly don't believe why I didn't think to make this Berry Cream Cheese before. It's so freaking tasty!
You could use some store bought all-fruit jam if you don't want to make your own. But if you have a few minutes, it's really worth the effort. It's really so simple. Mix jam with cream cheese, and VOILA! Berry cream cheese ready to be spread on your favorite bagel or toast. And obviously, to make things better, it's PINK! Such a pretty color to help raise breast cancer awareness!
One Year Ago: Homemade Three Musketeers and Homemade Milky Way Bars
Two Years Ago: Pecan Pie Cookies and Chocolate M&M Cookies
Three Years Ago: Crockpot Keilbasa and Kraut and Pink M&M Treats
Don't forget about my Power of Pink Challenge – make something PINK by the end of the month to raise Breast Cancer Awareness!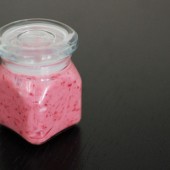 Berry Cream Cheese
Ingredients:
For the jam:
1 cups ripe raspberries
1/3 cup ripe strawberries, stems removed
3 Tbsp maple syrup
1 Tbsp lemon juice
1/2 tsp corn starch
For the cream cheese:
6 Tbsp cream cheese
¼ cup jam, preferably homemade
Directions:
To make the jam:
Combine all ingredients in a non-reactive pan. Boil on low for at least 45 minutes. Allow to cool to room temperature and then store in the fridge. Yields ¼ cup of jam.
To make the berry cream cheese:
Simply whip together the cream cheese and jam. Serve on toasted bagels. Store berry cream cheese in fridge.
4 Responses to "Blueberry Lemon Basil Cupcakes"
Leave a Comment