Homemade Three Musketeer Candy Bars
Halloween is almost here so I've been in the mood for candy! Hubby claims he's not a big fan of chocolate, but he's never turned down anything I give him to taste. With that being said, if there was candy in the house, I'd eat about 99% of it. I can't really control myself around candy. That's why we never buy any.
Since we won't get trick or treaters for Halloween because of living in a condo building, I can't justify breaking our "No Candy in the House" rule, so I decided instead to make some candy. Because if I make it, the rule isn't broken.
These little candy bars are pretty awesome. They taste just like a Three Musteteer's bar. I kept them in the freezer because I like my candy frozen.
One Year Ago: Pecan Pie Cookies
Two Years Ago: Keilbasa and Kraut in the Crockpot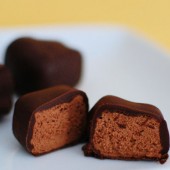 Homemade Three Musketeer Candy Bars
Ingredients:
2 cups semi-sweet chocolate chips
1 (8 oz.) tub frozen whipped topping, thawed
2 cups milk chocolate chips
2 tablespoons vegetable oil
Directions:
Line an 8 or 9-inch square pan with wax paper.
In a medium bowl, melt semi-sweet chocolate chips in the microwave at fifty percent power, or use a double boiler.
Using an electric mixer on high speed, beat melted chocolate for about 30 seconds.
Add whipped topping to melted chocolate and beat until well combined and fluffy, 30-60 seconds more.
Spread chocolate mixture evenly into prepared pan (if mixture is too stiff, press into pan with lightly dampened hands). Place in freezer for 30 minutes.
Remove pan from freezer and turn chocolate mixture onto a cutting board; cut into one-inch squares. Return squares to freezer for another 15-20 minutes.
Meanwhile, melt milk chocolate chips with 2 tablespoons of vegetable oil and stir until well combined. Dip frozen chocolate squares into melted chocolate to coat. Place on wax paper to set. Keep chocolates in an airtight container in the refrigerator.

Don't forget about my Power of Pink Challenge – make something PINK by the end of the month to raise Breast Cancer Awareness!
7 Responses to "The Ultimate Whoopie Pies"
Leave a Comment