Cranberry Raisin Almond Banana Bread
Here's another banana bread recipe. Like the one I posted the other day, this banana bread kicks things up a notch with some great mix-ins. I hadn't planned on using raisins and crans, but I didn't have enough crans for the recipe, so I went with a combination of the two. It added great color and flavor to use both.
I really enjoyed the almond and banana combination. By using almond extract, there was a great almond scent to the bread, and of course the chopped almonds helped to enhance the almond flavor while also adding texture to the bread.
This bread came out pretty dense, I think due to all the add ins and the fact that I used white whole wheat flour in the bread. This bread made a great breakfast for me and Hubby for quite a few days. And, of course, it also freezes really well.
I always toast nuts that I use in any recipe. Toasting them really brings out their nutty flavor. I usually toast them in a skillet on medium heat for just a few minutes until they become fragrant.
Two Years Ago: Spicey Orange Shrimp
Three Years Ago: Shrimp Scampi with Mushrooms and Asparagus and Roasted Red Pepper Hummus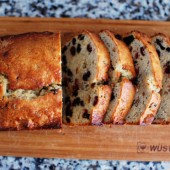 Cranberry Raisin Almond Banana Bread
Ingredients:
1 cup sugar
1/2 cup butter, softened
1 cup mashed banana (2 medium bananas)
1/4 cup milk
2 eggs
1/2 tsp almond extract
2 cups white whole wheat flour
2 tsp baking powder
1/2 cup almonds, toasted and chopped
1 cup dried cranberries
1/2 cup raisins
Directions:
Heat oven to 350ºF. Grease an 8 1/2 x 4 1/2 x 2 1/2 -inch loaf pan.
Mix sugar and butter together in a medium mixing bowl until completely blended.
Add banana, milk, eggs, and almond extract, mixing well.
Add dry ingredients, mixing just until moist.
Stir in almonds, dried cranberries, and raisins. Spread batter evenly in a loaf pan.
Bake for 1 hour or until a toothpick inserted into the center of the bread comes out clean. Remove from pan and cool.

Don't forget about Bloggers Bake for Hope – Bloggers Bake. You Bid. 100% of proceeds go to Komen for a Cure. Register to bake by April 30th, come back for bidding May 4-6.

3 Responses to "Lime Meltaway Recipe (Bookmarked Recipes)"
Leave a Comment