Lamb and Guinness Stew
Hubby and I went on a cruise a few weeks ago. It was an amazing chance to spend some time with great friends in a tropical location. If you noticed a lack of commenting and instagramming, it was due to my lack of internet access. Being completely unplugged from work, the internet, and the world was a nice break and something that we really needed after the hectic last few months of moving.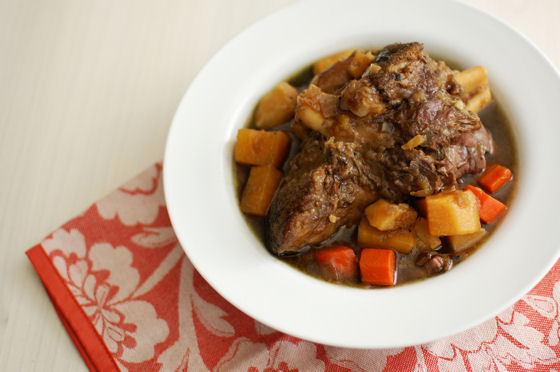 Coming back to Ohio after a week in the Caribbean was a shock to the system. I think my body forgot what it felt like to be in 20 degree weather. When we got home from our trip, I felt chilled to the bone and was craving some pure comfort food. I made this lamb and Guinness stew within a week of getting home.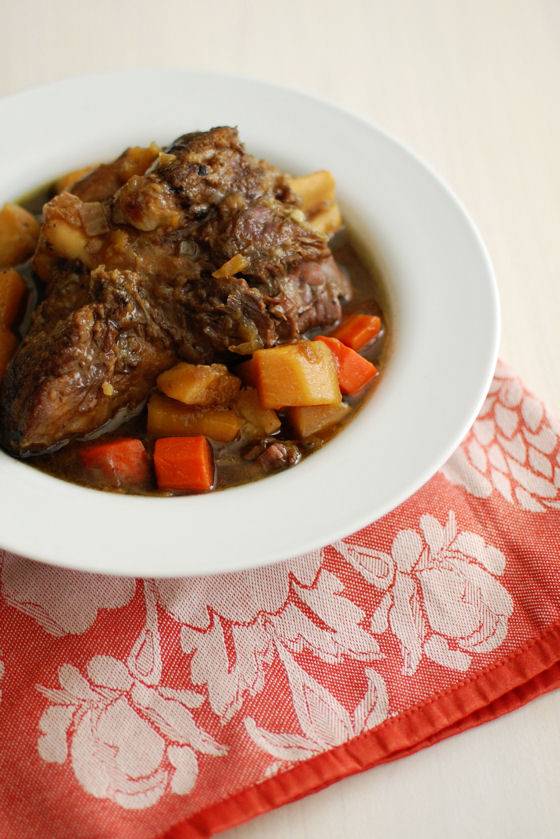 Hubby and I really enjoyed this stew. The rutabaga is a vegetable that I've actually never cooked with. It had a slightly sweet flavor that complimented this stew very well. Whether you're returning from a Caribbean vacation or just want some comfort food, you should make this lamb and Guinness stew.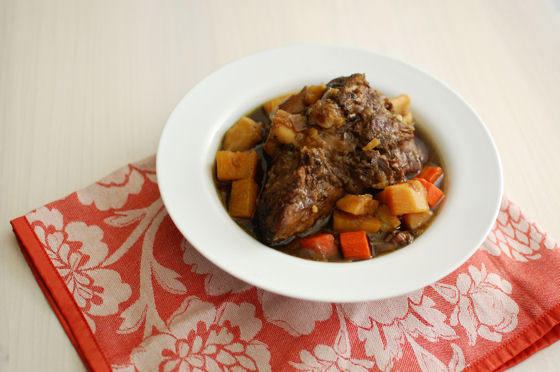 One Year Ago: Roasted Vegetable and Spinach Salad and Almond Joy Brownies
Two Years Ago: Sweet, Salty, Chewy, and Crunchy Brownies and Pot of Gold Cupcakes for St Patrick's Day
Three Years Ago: Ina Garten's Mustard Roasted Potatoes and Homemade BBQ Sauce
Four Years Ago: Alton Brown's The Chewy AND Mashed Sweet Potatoes
Five Years Ago: Scallop Burgers and S'mores Cupcakes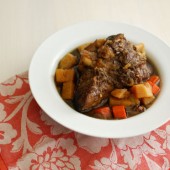 This Lamb and Guinness Stew is perfect for keeping you warm during these cold weather months
Ingredients:
3 tablespoons vegetable oil
3 lb lamb shank (2-3 shanks)
1/4 cup flour
2.5 cups chopped onions
2 cups beef stock or canned broth
1 12-ounce bottles Guinness stout
2 carrots, peeled, cut into 1-inch pieces
1 large parsnips, peeled, cut into 1-inch pieces
1 rutabagas, peeled, cut into 1-inch pieces
Directions:
Heat vegetable oil in heavy large Dutch oven over high heat. Season lamb shanks with salt and pepper. Coat lamb with flour; shake off excess. Reserve excess flour.
Add lamb to Dutch oven in batches and brown well. Using tongs, transfer lamb to bowl.
Reduce heat to medium. Add onions to Dutch oven and sauté until transluscent, scraping up any browned bits, about 5 minutes. Add reserved flour and stir 1 minute.
Return lamb shanks and any accumulated juices to Dutch oven. Add beef stock and Guinness. Cover and bring to boil. Reduce heat and simmer until meat is almost tender, about 1 hour.
Add carrots, parsnips and rutabagas to Dutch oven and simmer uncovered until meat and vegetables are tender and stew thickens slightly, about 40 minutes. Spoon fat from surface of stew. Simmer 20 more minutes.
Do ahead: Stew can be prepared 1 day ahead. Cover tightly and refrigerate. Rewarm stew over low heat before serving.
One Response to "Cheesy Broccoli Quinoa Casserole"
Leave a Comment