Homemade BBQ Sauce
This is another recipe from Hubby's mom. She likes to make this BBQ sauce to give as gifts and often makes a jar for us when we visit. I figured it was about time to just ask for the recipe so we could make it ourselves. It comes together so quick and easy there's no reason to buy premade BBQ sauce any more!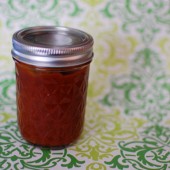 Homemade BBQ Sauce
Ingredients:
4 Tbsp butter
4 cloves garlic
1 1/2 cup brown sugar
2 Tbsp celery seed
2/3 cup lemon juice
3 Tbsp vinegar
1/3 cup horseradish
1/3 cup mustard
1 12-oz bottle chili sauce
1/3 cup Worcestershire sauce
2 tsp Tabasco sauce
1 16-oz bottle ketchup
Directions:
Melt butter in a medium sauce pan.
Stir in remaining ingredients.
Simmer on low for about 15 minutes until sauce thickens. Stir occasionally.
7 Responses to "Homemade BBQ Sauce"
Leave a Comment