Roasted Vegetable and Spinach Salad
Hubby and I eat a lot of salads. We have to with all the baked goods in the house! I made this salad for the first time when we had friends over for dinner.
We all agreed that the pomegranate dressing was amazing. Unfortunately for me, this salad doesn't keep well due to the spinach and the dressing. If you package the salad with the pom arils and dressing in a separate container, it will travel in your lunch bag just fine though.
I love that this salad serves as a salad and a side. You can adjust the amount of vegetables you throw in depending on how many people you're going to be serving and what you like or have on hand.
One Year Ago: Sweet, Salty, Chewy, and Crunchy Brownies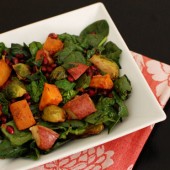 Roasted Vegetable and Spinach Salad
Roasted root vegetables and pomegranate dressing make this a memorable salad
Ingredients:
For the Roasted Vegetables
2 lb butternut squash, peeled and chopped
1 lb new potatoes, chopped
2 lbs brussels sprouts, halved
4 cloves garlic, minced or pressed
1 tbsp olive oil
heavy pinch kosher salt
For the Dressing
4 tablespoons olive oil
2 tablespoon lemon juice
2 tablespoon pomegranate molasses
2 teaspoon dijon mustard
salt and pepper to taste
For the salad
6 oz spinach
1 pomegranate's worth of pomegranate arils
Directions:
For the Roasted Vegetables
Preheat oven to 425F. In a medium bowl, combine butternut squash, potatoes, and brussels sprouts with the oil, minced garlic and sprinkle with sea salt.
Pour potatoes and squash onto a foil-lined baking sheet and spread into a single layer. Bake for 20 minutes.
Meanwhile, put brussels sprouts on a separate foil-lined baking sheet, cut side down. After the 20 minutes, stir the potatoes and squash. Place brussels sprouts in the oven on the other rack. Bake all vegetables for another 20 minutes until tender.
Remove from oven and allow to cool for 10 minutes.
For the Dressing
Whisk together olive oil, lemon juice, pomegranate molasses, and dijon. Add salt and pepper to taste.
For the salad
Meanwhile, place the spinach in a large salad bowl.
Add pomegranate arils, salad dressing, and roasted vegetables. Toss to coat. Season with salt and pepper if necessary.
5 Responses to "Shrimp Scampi with Mushrooms and Asparagus recipe"
Leave a Comment