Funfetti Chocolate Chip Cookies
Who doesn't love some sprinkles?!? They are just so fun and festive. I love using them to decorate cookies and cupcakes, but it's especially fun to bake with them. I wanted to see if I could turn my favorite chocolate chip cookie recipe into a funfetti cookie. I made the same changes that I used back when I made these Funfetti Blondies.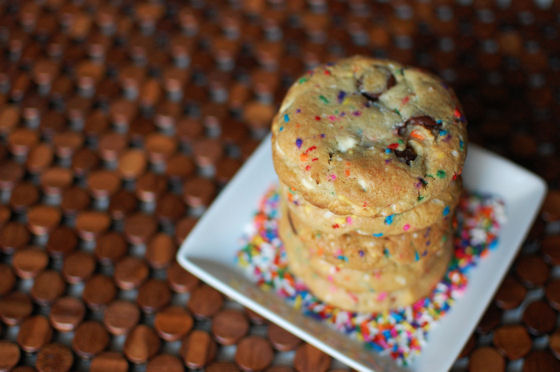 By adding almond extract, white chocolate, and sprinkles, these cookies are transformed into a funfetti treat without the use of boxed cake mix. I left the chocolate chips in there too so they really would be Funfetti Chocolate Chip Cookies. My brother-in-law is a self-proclaimed funfetti expert so I took these with us when we went to visit my sister a couple weeks ago. Everyone really enjoyed them and wished I had brought more!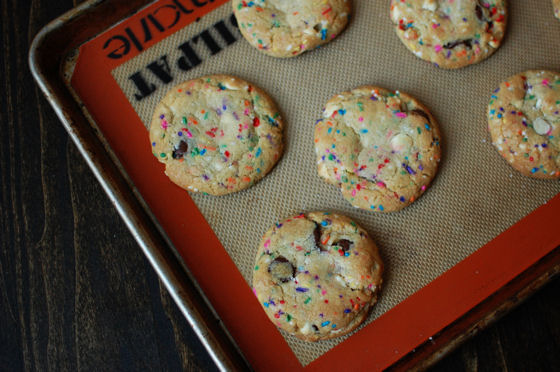 One Year Ago: White Chocolate Layer Cake with Blueberry Curd Filling and Spaghetti and Meatballs for a Crowd
Two Years Ago: Lemon Meringue Cupcakes and Short Rib Ragu
Three Years Ago: Alton Brown's Stovetop Macaroni and Cheese and Layered Marshmallow Brownies
Four Years Ago: Chicken Sausage, Spinach, Tomato and Goat Cheese Quiche
Five Years Ago: Fake Apple Pie A La Mode and Vegan Chocolate Cupcakes with Dairy Free Mexican Hot Chocolate Frosting
I am submitting this for this month's What's Baking, hosted by ME! I chose a theme of SPRINKLES! for this month. Be sure to check back at the end of the month to see what everyone else made.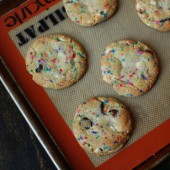 Funfetti Chocolate Chip Cookies
The almond extract and white chocolate chips bring the flavors while the sprinkles bring the look of funfetti to chocolate chip cookies!
Yield: 2.5 dozen large cookies
Ingredients:
1 cup (2 sticks) butter
4 oz cream cheese, softened
3/4 cups brown sugar
3/4 cups sugar
2 eggs
3/4 tsp almond extract
3 1/4 cups flour
1 tsp salt
1 tsp baking soda
1 cup white chocolate chips
1/2 cup chocolate chips
3/4 cup sprinkles
sea salting, for sprinkling (optional)
Directions:
Melt the butter in a saucepan until brown and set it aside to cool.
Cream the butter, cream cheese and both sugars together with an electric mixer until smooth.
Add the eggs and almond extract and beat until combined.
Turn the mixer on low and mix in the flour, salt and baking soda until just combined.
Add the chocolate chips and sprinkles and mix until just incorporated.
Cover the dough and refrigerate until chilled, several hours or overnight.
When ready to bake, preheat the oven to 375 degrees and line a few trays with baking paper.
Roll 1/4 cup size balls of dough and place them on the trays. Flatten slightly. Sprinkle with sea salt.
Bake for 9-12 minutes, until the edges are golden.
5 Responses to "Eclairs – Daring Bakers"
Leave a Comment