Black & White Blondies
I have slowly but surely become a huge fan of white chocolate. Have you guys noticed? I've definitely been posting a lot more recipes featuring white chocolate than usual. Dark chocolate is what I am historically drawn to, but there's something about the subtle smooth flavor of white chocolate that has me hooked lately.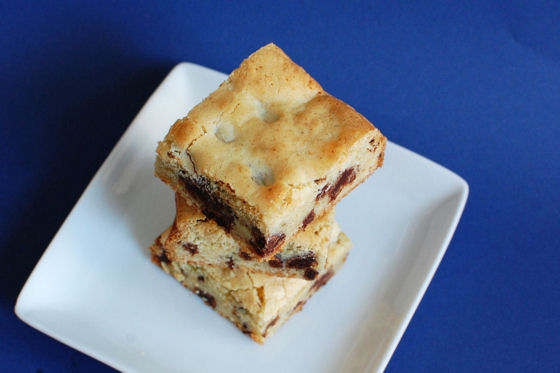 Similar to these White Chocolate Raspberry Blondies, these are buttery and rich without being heavy. The chunks of bittersweet chocolate give a great kick of chocolate.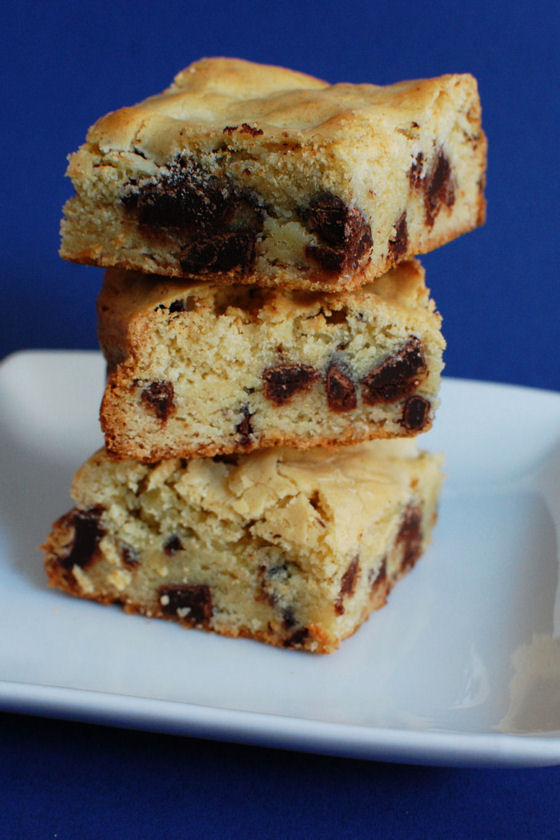 Everyone seemed surprised that these weren't standard old cookie bars. A couple of our friends couldn't quite place what the white chocolate flavor was, but it was one of those situations where once I told them, it made complete sense. For an out of the box blondie, give these a shot!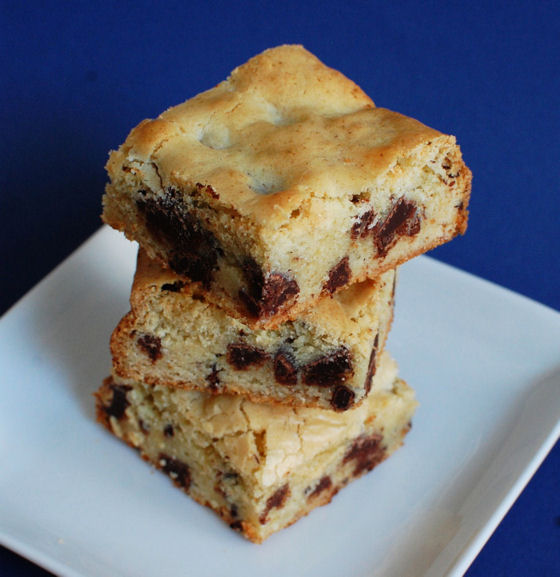 One Year Ago: Lobster Mac and Cheese and Blueberry Curd
Two Years Ago: Roasted Carrots with Thyme and Goat Cheese
Five Years Ago: Butternut Squash Risotto
Five Years Ago: Cinnamon Cookies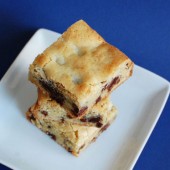 Black and White Blondies
Blondies made with bittersweet and white chocolate
Ingredients:
1 cup chopped white chocolate
1/4 cup (4 Tbsp) butter
3/4 cup sugar
2 tsp vanilla
1/4 tsp freshly ground nutmeg
1/4 tsp salt
2 large eggs
1 1/4 cups flour
1/2 tsp baking powder
1 cup bittersweet chunks or chopped chocolate
Directions:
Preheat the oven to 350F. Lightly grease a 9″ square pan.
Place the white chocolate, butter, and sugar in a heatproof bowl. Heat at low power in the microwave at 1-minute intervals, or over simmering water, until the chocolate softens; white chocolate is sensitive to scorching, so be careful.
When the butter is melted and the white chocolate looks soft, stir in the vanilla, nutmeg, and salt. Let the mixture cool to lukewarm. Beat in the eggs.
Whisk together the flour and baking powder, and stir into the egg mixture.
Stir in 3/4 cup of the chocolate chunks. Spoon the batter into a greased 9″ square pan, and sprinkle the remaining chocolate chunks over the top.
Bake the brownies for 25 minutes, until they're light golden brown and the edges pull just slightly away from the pan.
Cool completely and serve.
10 Responses to "Watermelon cupcakes"
Leave a Comment