Lemon Meringue Cupcakes
Have you guys "met" Kelsey from Apple a Day? If you've been reading my blog for a while, you will notice that I have made quite a few recipes from her blog (most recently the Crockpot Pulled Chicken). I'm very excited to be participating in her virtual bridal shower today!
While I've been to my fair share of real bridal showers, this is my first virtual one. Basically a bunch of bloggers will be posting recipes fit for a bridal shower to celebrate Kelsey's upcoming wedding! Be sure to check out the roundup and congratulate Kelsey on her blog. Amy from Sing for your Supper is hosting the virtual bridal shower, so be sure to check out her blog for a recap as well.
Like most social events, my mind instantly thinks of the desserts when I think about shower food. I love cupcakes for gatherings like showers because they're easy enough to grab and add to the plate of goodies and they're just so dang cute!
For the cupcakes, I made some yellow cupcakes, filled them with some homemade lemon curd, and topped them with some toasted marshmallow meringue frosting. I actually ran a little short on the frosting so some of them ended up without, but those cupcakes were also delicious. In fact, I kind of prefered them because they really highlighted the lemon curd.
I want to mention these fun cupcake liners. If you've bought cupcake liners at a grocery store, you've most likely purchased Reynold's cupcake liners. They make the classic pastel colored ones, and the foil ones. Within the past year, they've expanded their product line to include bright neon colors, more prints, colored foils, and these StayBrite liners. They have the black and white print I used here, the pirate cupcake liners I've used, and some cute monkey liners that I own, but haven't used yet. I don't mean to sound like an advertisement here, but I love being able to find cute cupcake liners at a store and so I don't have to order them online!
One Year Ago: Layered Marshmallow Brownies
Two Years Ago: Chicken Sausage, Spinach, Tomato, and Goat Cheese Quiche
Three Years Ago: Vegan Chocolate Cupcakes with Mexican Hot Chocolate Frosting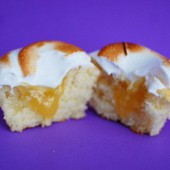 Lemon Meringue Cupcakes
Ingredients:
For the Lemon Meringue Cupcakes
1/2 batch lemon curd (~1.5 cups)
24 Yellow cupcakes (recipe follows)
1/2 batch marshmallow frosting
For the Yellow Cupcakes
2 sticks (1 cup) unsalted butter, room temperature
1 1/2 cups flour, plus more for pans
1 1/2 cups cake flour
1 Tbsp baking powder
1/2 tsp salt
1 3/4 cups sugar
4 eggs
2 tsp vanilla
1 1/4 cups milk
Directions:
To assemble the Cupcakes
Once cupcakes have cooled completely, use the cone method to remove part of the cupcake. Discard cone (or eat it).
Fill cavity with lemon curd.
Make frosting and immediately pipe onto cupcakes. Using a kitchen torch, toast the marshmallow frosting until golden brown. Serve immediately.
Cupcakes can be stored in an airtight container at room temperature for a couple days.
For the Yellow Cupcakes
Preheat oven to 350 degrees. Prepare 2 muffin tins with cupcake liners; set aside.
Into a medium bowl, sift together flours, baking powder, and salt; set aside.
In the bowl of an electric mixer fitted with the paddle attachment, beat the butter and sugar until light and fluffy, 3 to 4 minutes, scraping down the sides of the bowl as needed. Beat in eggs, one at a time, then beat in vanilla.
With the mixer on low speed, add the flour mixture in three parts, alternating with the milk and beginning and ending with the flour; beat until combined after each addition.
Divide batter between the prepared pans. Bake, rotating the pans halfway through, until cupcakes are golden brown, 20-25 minutes. Cool in pans 10 minutes then remove to a cooling rack.
3 Responses to "Hummingbird Cupcakes with Pineapple Flowers"
Leave a Comment