Short Rib Ragu
While spring is definitely knocking on the door here in Boston, winter is still holding on strong with some chilly windy days. This meal is perfect for a day like that. It's the kind of food that warms you from the inside out in it's heartiness and complexity of flavors.
As you can tell, I've been trying to get a lot of use out of my pretty red dutch oven. I think I should name it in fact… At any rate, I saw this recipe in my Google Reader and knew that Hubby and I would enjoy it. The ingredient list is similar to that of the Braised Beef in Wine that I made a few weeks ago. But to be totally honest, Hubby and I definitely liked this recipe even more.
Served over creamy polenta and topped with a bright gremolata, this short rib ragu is just amazing. As always, I bumped up the amount of veggies in the dish. I also ended up using a somewhat random assortment of meats in it. When I went to the Meat House, they only had about 1.5 pounds of bone-in short ribs. They also only had another 1.5 pounds of boneless short ribs (it was Sunday night and they mentioned they had a busy weekend).
The staff was very accomodating and offered me some soup bones for free to make up for the lack of bone-in short ribs. To finish out the 5 pounds of meat I needed, I took a couple pounds of brisket as well. I figured since it was all cooking low and slow, it would all fall apart and would still be delicious. I figured correctly. Hubby and I could not get enough of this dish.
It feeds quite a few, but reheats and freezes perfectly. In fact, the recipe even says to make it the day before and reheat it before serving. That fact, along with the fact that it's amazing, makes this a perfect dish to serve to guests.
One Year Ago: Mustard Roasted Potatoes
Two Years Ago: Alton Brown's The Chewy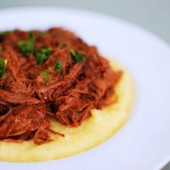 Short Rib Ragu
Ingredients:
For the Ragu
5-6 pounds bone-in short ribs
kosher salt and freshly ground black pepper
1 Tbsp oil
1 large onion, diced
2 medium carrots, diced
2 stalks celery, diced
4 large cloves garlic, finely chopped
3 Tbsp tomato paste
2 cups big red wine
14 ounces fire-roasted whole tomatoes and juice
1 Tbsp Dijon mustard
3-4 dashes Worcestershire sauce
1 ounce dried porcini mushrooms
1 tsp dried oregano
1 large sprig rosemary, leaves chopped
2 bay leaves
chicken stock or water
For the Gremolata
1 large clove garlic, minced
1 large lemon, zest only
1/4 cup parsley, finely chopped
1/2 teaspoon salt
1 teaspoon olive oil
Directions:
For the Ragu
Preheat oven to 350 degrees. Soak dried mushrooms in 2 cups boiling water.
Season ribs well with salt and pepper. Heat oil in large, dutch oven over medium heat until shimmering. Brown ribs in batches for 2-3 minutes per side, then set aside. Pour out all but 1 tablespoon of accumulated fat from pot, then sauté onion, carrots and celery until soft. Add garlic and stir until fragrant.
Create a hot spot in the pot by moving vegetables aside and leaving about a 3-inch radius bare. Add tomato paste to the hot spot and stir vigorously until caramelized, then stir into the vegetables. Add red wine to deglaze and cook until liquid is reduced by half. Add tomatoes, mustard, Worcestershire sauce, mushrooms and soaking liquid, plus herbs.
Add ribs to pot and fill with chicken stock or water until ribs are nearly covered. Bring liquid to a boil, then cover tightly and braise in oven for at least 3 hours or until ribs are fall-apart tender.
Remove ribs from liquid and set aside until cool enough to handle. Remove bay leaves and discard. While ribs cool, purée the braising liquid with an immersion blender until thick and set over medium-low heat to reduce if the sauce seems thin. When ribs have cooled down, discard bones and large pieces of fat, then shred the beef and return it to the pot. Remove from heat and cool to room temperature, skimming any large pools of fat from the surface.
Refrigerate overnight. The next day, remove additional fat from the surface before reheating. Serve over polenta, sprinkled with gremolata.
For the Gremolata
Mix ingredients in a small bowl and let sit at room temperature for an hour before serving.
Leave a Comment