Apple 7-Layer Magic Bars
Every year at the holidays, Hubby's mom makes a cookie tray. It's pretty famous in their family. She makes the same cookies every year including Hubby's favorite Lumberjacks, and her favorite, Seasame Crisps. She also always makes Magic Bars. I have also heard of them called 7-Layer Bars or Dream Bars. They're a classic baked good with the layers of graham crackers, sweetened condensed milk, chocolate chips, nuts, and coconut.
When I saw this recipe for a pumpkin variation on magic bars on Baker's Royale, I was instantly intrigued. What a brilliant thought! Naomi even mentioned that you could substitute apple butter for the pumpkin puree in the recipe.
When I read that, I instantly thought of the homemade Vanilla Spiced Applesauce that I had in the fridge. I decided to take Naomi's twist on the classic magic bar recipe and twist it even more.
Instead of using almonds, I went with walnuts. They just seem to go better with apples in my mind. And I knew that I couldn't use chocolate chips in the apple variation. I decided to use half cinnamon chips and half chopped white chocolate (you could use white chocolate chips if you prefer). This turned out to be a winning combination. If you can't find cinnamon chips, you could just boost up the amount of cinnamon in the recipe and use all white chocolate.
Like Naomi, I prefer my bars to be thick, so I baked these in an 8×8 pan. If you prefer a thinner bar, use a 9×13 pan instead. As you can see, these bars were a bit crumbly, so I served them with a fork. Everyone that had one of these really enjoyed them. I can't wait to make them again!
One Year Ago: Blueberry Lemonade and Roasted Beet and Goat Cheese Risotto
Two Years Ago: Homemade Marshmallows and Smores Cookies
Four Years Ago: Grilled Beef Ribs

Don't forget about my Power of Pink Challenge – make something PINK by the end of the month to raise Breast Cancer Awareness!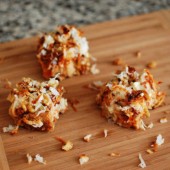 Apple 7-Layer Magic Bars
Remember those Magic Bars your mom made at the holidays growing up? This is a fall spin on that classic recipe. Made with chunky applesauce, white chocolate, and cinnamon chips, it's sure to become a family favorite.
Ingredients:
2 cups graham cracker crumbs (about 16 whole crackers)
8 tablespoons butter
1 14oz can sweetened condensed milk
3/4 cup homemade applesauce
1 tsp cinnamon
1/4 tsp nutmeg
1/4 tsp cloves
2 apples, peeled, cored, and slices
1/2 cup cinnamon chips
3 oz white chocolate, chopped (or 1/2 cup white chocolate chips)
1 cup walnuts, coarsely chopped
11/2 cup sweetened shredded coconut
Directions:
Preheat oven to 350F.
Combine graham crackers and butter and stir until well blended. Press mixture onto bottom of a 8x8 pan.
Combine sweetened condensed milk, applesauce, cinnamon, nutmeg, cloves and stir until well combined. Pour mixture over graham cracker crust.
Layer apples on the sweetened sweetened condensed milk mixture. Sprinkle on cinnamon chips, white chocolate, walnuts, and coconut.
Place assembled pan in the oven and bake for about 35-40 minutes. Let cool in pan completely and then transfer finished pan to the refrigerator to chill before cutting.
Leave a Comment