Banana Coconut Bread
In an attempt to clean out our freezer, I was faced with a common delima. What do I do with these frozen bananas? Sure, I could have just thrown them back into the freezer where they'd sit for who knows how long. But I decided instead to bake with them.
I decided by coworkers would appreciate some banana bread to go with their coffee in the morning, so I started flipping through some cookbooks. I've really been trying to use my cookbooks more frequently. I have a tendency to just go straight to my Google Reader or other online avenues for finding recipes.
I opted for this recipe from Joanne Chang's Flour. Her recipes are always a hit. My Go-To Chocolate Cupcake Recipe is from her. And she beat out Bobby Flay on Throwdown for her sticky buns.
As expected, this recipe yielded a moist, flavorful banana bread. Since I didn't have any nuts on hand, I tossed in some toasted coconut instead. The coconut provided a unique texture and a subtle hint of coconut. One of my coworkers told me the banana bread was delicious. After having a second piece, he came and said "it's not just delicious, it's exquisite!"
One Year Ago: Blackberry Raspberry Pie Bars and My Go-To Chocolate Cupcake Recipe
Three Years Ago: Steak Fajitas with Chimichurri and Drunken Peppers
Four Years Ago: Crispy Yogurt Chicken and Lime Meltaways
Five Years Ago: BBQ Dip and Cookies and Cream Cupcakes – Take 2
I am submitting this for this month's What's Baking, hosted by Jenna of Jenna's Cooking Journey. This month's theme was Quickbreads!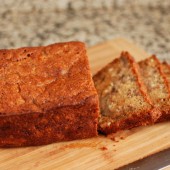 Banana Coconut Bread
Banana bread gets a unique twist with the addition of toasted coconut.
Ingredients:
1 2/3 cups flour
1 tsp baking soda
1/4 tsp cinnamon
1/2 tsp salt
1 cup plus 2 Tbsp sugar
2 eggs
1/2 cup oil
3 1/2 bananas, very ripe, mashed
2 Tbsp sour cream
1 tsp vanilla
2/3 cup toasted coconut
Directions:
Set oven to 350F. Line the bottom of a loaf pan with parchment paper.
Sift together the flour, baking soda, cinnamon and salt.
Beat sugar and eggs with a whisk until light and fluffy, about 10 minutes.
Drizzle in oil.
Add mashed bananas, sour cream, and vanilla. Fold in dry ingredients and coconut.
Pour into a lined loaf pan and bake for about 45 minutes to 1 hour.
8 Responses to "Vegan chocolate / banana / caramel cupcakes"
Leave a Comment