Blueberry Peach Muffins
Hubby and I were getting ready to leave for vacation and I wanted to do some baking (shocking, I know!) I decided to make some muffins since they travel well. I had seen this recipe on Katie's blog and it instantly made me think of the spiced peach jam I made for Steph Chow's Jam Exchange. When it came time to bake these muffins, I decided to use up an extra pint of blueberries we had in the fridge instead of adding a cut up peach.
These muffins were delicious! Hubby said they're the best muffins I've ever made, and I make muffins on a regular basis. They were extremely moist and the peach and blueberry flavors go well together.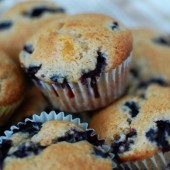 Blueberry Peach Muffins
Ingredients:
1 1/2 cup flour, sifted
3/4 cup sugar
2 tsp baking powder
1/2 tsp salt
1/2 tsp freshly ground cinnamon
1/4 tsp freshly ground nutmeg
1/2 cup spiced peach preserves - I used my peach jam
1/3 cup milk
2 Tbsp plain yogurt
1 egg
1 pint blueberries
Directions:
Preheat the oven to 400 degrees and line a muffin tin with paper cups.
In large bowl, combine flour, sugar, baking powder, salt, cinnamon, nutmeg, and whisk to combine.
In medium bowl, combine preserves, milk, yogurt, egg, and whisk to combine well.
Mix wet ingredients into dry until just combined.
Fold in blueberries and spoon equally into 12 muffin cups.
Place muffins into oven and bake for 25 minutes or until toothpick inserted into center comes out clean.
Let cool completely before serving.
12 Responses to "Fig, Goat Cheese, and Caramelized Onion Crostini"
Leave a Comment