Shrimp Fritters with Blackberry Dipping Sauce
I feel like most of the pink food I've been making has been sweet. I wanted to make something savory for a change. These shrimp fritters were AMAZING. They had a great shrimp and garlic flavor without being overly greasy or heavy.
I really enjoyed the Blackberry Dipping Sauce. I loved how the sweetness countered the savory flavors of the fritters. However, Hubby thought the texture was kind of weird. Next time I make this, I'll definitely puree the dipping sauce so that it has a smooth texture to appease Hubby's taste buds.
One Year Ago: Cranberry White Chocolate Cupcakes
Shrimp Fritters with Blackberry Dipping Sauce – as seen on Dishing Up Delights – serves 2-4
Printable Recipe
Don't forget about my Power of Pink Challenge – make something PINK by the end of the month to raise Breast Cancer Awareness!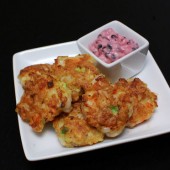 Ingredients:
For the Shrimp Fritters:
1/2 pound shrimp, peeled, deveined and finely chopped
2 green onions, chopped
2 cloves garlic, minced
1 egg, lightly beaten
1/4 cup panko breadcrumbs
Salt and pepper
Canola oil
For the Blackberry Dipping Sauce:
2 Tbsp mayonnaise
5-6 fresh blackberries
Directions:
To make the Shrimp Fritters:
In a large bowl mix the shrimp, green onions, garlic, breadcrumbs and egg until well combined. Season with salt and a pinch of pepper.
Coat the bottom of a large skillet with oil and heat over medium-low heat. Use a tablespoon or cookie scoop to form small balls of the shrimp mixture, then pat them gently to form cakes. Carefully lower the cakes into the oil and cook for 2-3 minutes per side until golden and the shrimp have cooked through. Drain on towels.
To make the Blackberry Dipping Sauce:
In a small bowl, mix together the mayonnaise and blackberries, smashing the blackberries with a fork. Serve with the shrimp cakes.
2 Responses to "Blueberry Buckle"
Leave a Comment