Steak Fajitas with Chimichurri and Drunken Peppers
I got a subscription to Food Network Magazine for Christmas last year. I've enjoyed reading it because I love the Food Network. I do wish they came every month instead of every other month though… This is actually the first recipe I've tried from the magazine. It was from a bit they do called he made/she made where a male and female chef head off to make a similar recipe.
Hubby and I both really enjoyed these fajitas. I served them on whole wheat tortillas with chopped tomatoes. We did have leftover chimichurri sauce, so I just froze it like I do leftover pesto. The best part of this recipe was the peppers. I'm definitely going to use the recipe/method to saute peppers from now on.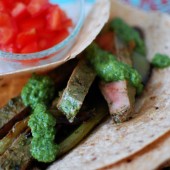 Steak Fajitas with Chimichurri and Drunken Peppers
Ingredients:
1 bunch fresh parsley
1 bunch fresh cilantro
2 cloves garlic
1 large red onion, halved and sliced
Kosher salt and freshly ground pepper
2 Tbsp red wine vinegar
3 Tbsp lemon juice
1/2 cup plus 1 Tbsp olive oil
1 pound chuck or top round steak (London broil)
3 red or green bell peppers, seeded and cut into strips
1/4 cup lager beer
8 8-inch flour tortillas
Lime wedges, for serving (optional)
Directions:
Combine the parsley and cilantro (leaves and stems), garlic, half of the sliced onion, 1 tablespoon salt, 1 teaspoon pepper, vinegar, 2 tablespoons lemon juice and 1/2 cup olive oil in a food processor; blend into a thick and smooth chimichurri sauce. Pierce both sides of the steak with a fork several times; place in a resealable plastic bag and add half of the sauce. Seal the bag and turn to coat the steak; refrigerate for at least 1 hour. Cover and reserve the remaining sauce.
Preheat a grill to medium-high. Remove the steak from the bag (discard the bag of sauce); season with salt and pepper and grill until medium-rare, about 6 minutes per side. Let rest, loosely covered with foil, for 10 minutes.
Meanwhile, heat the remaining 1 tablespoon olive oil in a large skillet over medium-high heat. Add the peppers and the remaining sliced onion half; season with salt and pepper. Saute until the vegetables are softened and caramelized around the edges, about 8 minutes. Add the beer, cover and cook until the peppers are tender, about 5 minutes.
Warm the tortillas on the grill. Thinly slice the steak on the bias; divide among the tortillas along with the peppers and onions. Thin the reserved chimichurri sauce with the remaining 1 tablespoon lemon juice; drizzle over the fajitas. Serve with lime wedges, if desired.
2 Responses to "Zucchini or Summer Squash and Turkey Lasagna"
Leave a Comment